By Sarah Geegan
Several University of Kentucky faculty members have been selected as recipients of prestigious Fulbright program scholarships.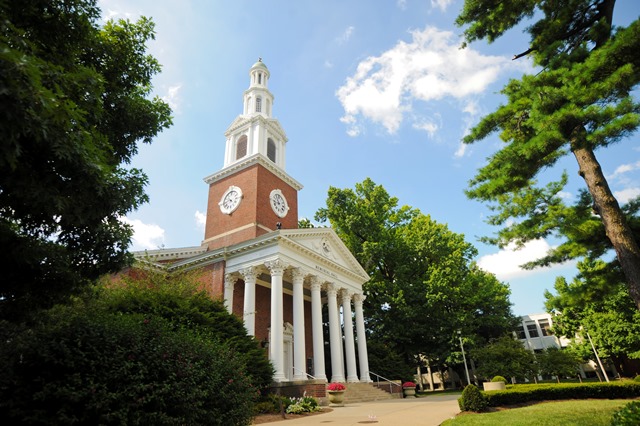 Sponsored by the United States Department of State, and the Bureau of Educational and Cultural Affairs, the Fulbright Program is the flagship international educational exchange program, which provides funding for professionals, teachers, students and scholars to undertake graduate study, advanced research, university teaching, and teaching in elementary and secondary schools. Operating in more than 155 countries worldwide, the program is designed to increase mutual understanding between the people of the United States and the people of other countries.
Recipients of Fulbright grants are selected on the basis of academic or professional achievement, as well as demonstrated leadership potential in their fields.
The UK faculty members awarded Fulbright grants are:
Michael Samers, an associate professor of geography, in the College of Arts and Sciences, who will do research in Lille, France.
·Doug Slaymaker, an associate professor of Japanese, in the College of Arts and Sciences, who will do research in Tokyo, Japan.
Matthew Zook, an associate professor of geography, in the College of Arts and Sciences, who will do research in Tartu, Estonia.
Srimati Basu received a Fulbright-Nehru Research grant to India, involving participant observation, interviews and archival work in about five or six cities, to study "Indian Men's Movements, Marriage and Domestic Violence."
She said that she is excited to have a fellowship to work at gathering a whole new body of data on a difficult and scantily researched topic. She is also looking forward to working with colleagues and students at various Indian universities, including her base at the School of Women's Studies, Jadavpur University, Kolkata.
Mel Coffee will be going as a Fulbright Specialist to Zambia for six weeks to work with ZNBC, the country's main national television news network. The purpose of the project is to revamp operations at ZNBC because currently, the institution's operations do not meet international standards as staff is not equipped with adequate skills in television production.
He will conduct workshops and help the network develop and establish best practices in several areas including station operations, the reporting of politics and producing documentaries.  These activities will benefit all current and future staff by resulting in improved programming at ZNBC, an outcome that will be enjoyed by millions of people in Zambia.
Alan Fryar will be based at the Faculty of Sciences and Techniques in Fez, Morocco, examining how the flow of springs in the Middle Atlas mountains may respond to climate change.
Fryar said he is elated to receive the Fulbright; this is something he has been building toward for over a decade.
Michael Samers will be based at CERAPS (Centre d'Études et de Recherches Administratives, Politiques et Sociales) at the Université de Lille II in Lille, France, with fieldwork in the nearby city of Roubaix. He will be studying the alternative economic projects of young adult immigrants in the face of high and widespread unemployment. Samers said he is delighted to receive this Fulbright award, which will allow him to undertake complex and difficult research with disadvantaged young adults, and to contribute to a discussion of either public policy or 'bottom-up' responses to the seemingly intractable problem of work for many immigrants in France.
Doug Slaymaker will be based at Meiji University in Tokyo, and will complete the research for his book project that follows Japanese artists who move from Tokyo to work in Paris in the early decades of the 20th century.  The Fulbright award will allow him to focus on a number of issues, such as the changing currents of globalization and identity across the century. Slaymaker said he is extremely honored to have his project founded.
Paul Vincelli spent three weeks in  Montevideo, Uruguay, primarily to offer a graduate course in fungicide resistance.  Spinoffs from that experience will include more advanced agent trainings on fungicide resistance, based on the materials he prepared for the graduate course.
Vincelli will also spend six months on sabbatical in Nicaragua, beginning Jan. 20 2014.  In addition to helping advance their molecular diagnostics programs, he will be studying agro ecology as well as their agricultural adaptation to climate change. Vincelli said that this is all part of the ongoing journey to find the best path forward for Kentucky agriculture.  As a former Peace Corps Volunteer, he said he loves the mission of the Fulbright program and believes deeply in the "cultural ambassador" dimension. He has received a total of three Fulbright Awards in his career.
Matt Zook will be working on "Using Geoweb Big Data to Explore the Spatial Patterns of Economic and Social Behavior" in Tartu, Estonia. Geoweb data are represented by the postings made via a range of social media services (Twitter, Facebook, Flickr, etc.) that provide a socio-spatial record that can be readily collected by researchers.  The rise of the geoweb has thus produced an ever increasingly amount of "big data" available to researchers to better under the spatial patterns of daily life.  Zook said that the the geoweb represents an important and exciting research area within human geography and GIScience, and that he is happy and honored to have received the award.
Fulbright recipients are offered and accept their honors at various times throughout the year, therefore, this list of faculty recipients may not reflect the comprehensive list of all UK awardees.