by Gail Hairston
But teaching college students isn't on her mind at the moment, or at least not exclusively. Instead, as one of the featured artists at this summer's annual
American Founders Bank Woodland Art Fair
, she will be displaying her stunning works in the downtown Lexington public park. Produced by the Lexington Art League in partnership with the Lexington Fayette Urban County Government's Division of Parks and Recreation and supported by American Founders Bank and other sponsors, this will be the event's 39th year. The art fair will be Aug. 16-17 at the Woodland Park grounds, at 601 East High Street.
The park setting is perfect for
Elliott's compositions
, which feature animals. Normally the domain of children's literature, animals are rarely the subject for a serious artist like Elliott, who has been a studio artist for the Lexington Art League since 2011.
"Why do we consider animal images childish?" asked Elliott. "Why is non-European art so much more heavily populated with animal subjects? Is there something colonialist in a Caucasian art viewer thinking animal imagery is just for kids?"
Exemplifying WRD's commitment to community engagement, Elliott's exhibit offers new visions of how technology and nature co-exist and challenge our notions of beauty and art. Drawing from her partial Cherokee heritage and upbringing in rural Oklahoma, Elliott has dubbed some of her
Summer Drawings
as "trickster animals witnessing environmental change."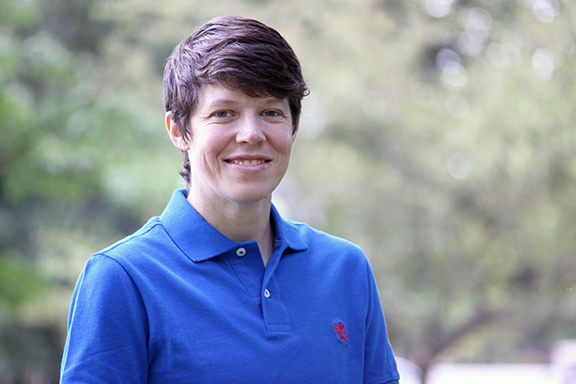 The lives of people as well as animals are transformed with environmental changes, and Elliott's colorful works demonstrate tensions when industry alters the environment for the worse. Elliott's painting, "
Charleston, West Virginia
," for instance, is a subtle comment on the Jan. 9, 2014, chemical spill in the Elk River, which contaminated the drinking water for more than 300,000 people. In the oil-on-canvas composition, the landscape is bright and clean, but a water truck ascends while a figure carrying jugs descends the hilly terrain toward the poisoned river below.
The "Charleston" painting is similar to the artist's efforts to see beauty in the midst of calamity that resulted in a series of 12 drawings that comprised a "2014 Disaster Calendar." Two compositions from this series, "Earthquake" and "Moore, 1999", were chosen by Lauren Schell Dickens, curator at the Corcoran Gallery of Art, for inclusion in the
Fourth Annual Earth and Art Juried
exhibit sponsored by the Berkeley Arts Council this spring. Like "Charleston, West Virginia," these drawings ask whether some environmental disasters are natural and inevitable or, instead, attributable to human influence and therefore avoidable. Elliott frames these controversial issues in bold, nearly cartoonish colors, juxtaposing visual form with political content.
With an MFA from
Milton Avery Graduate School of the Arts at Bard College
, Elliott encourages an interdisciplinary approach to art and writing. At UK, she teaches students how to use digital technology to combine words and images in posters, videos, comics, websites, and infographics.