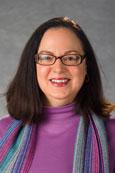 Associate Professor, Merchandising, Apparel and Textiles
Since joining the MAT faculty in 1990, Dr. Spillman has served as Interim Department Chair (2001-2002) and Director of Graduate Studies (2007-2012). She is currently serving a three-year term (2011-2014) on the UK Institutional Review Board reviewing non-medical research proposals. Her international work includes serving on a curricular oversight committee for KEI Study Abroad to ensure that study abroad programs in Fashion Design and Merchandising meet UK students' needs. Two programs visited in 2013 include the Istituto Europeo di Design (IED) in Milan, Italy and Heriot Watt University in Galashiels, Scotland.
Dr. Spillman is lead editor of The Meanings of Dress, 3rd edition (2012) published by Fairchild with co-editors A. Reilly and P. Hunt-Hurst. This text is used by numerous merchandising programs in the United States and abroad to promote critical thinking about the significance of dress. In addition, Dr. Spillman has published a chapter in Fashion, Design and Events (forthcoming December 2013), part of the Routledge Advances in Events Research series. The chapter is titled: Female Civil War Reenactors' Dress and Magic Moments. Dr. Spillman received an $8,000 grant for student scholarships from Target to engage students in a case study regarding the Hispanic market (2013-2014). Dr. Spillman and Dr. Addo published an article in the Journal of Family and Consumer Sciences (Spring 2012) titled: A Ghanaian Study Tour: Opportunity, Observations, and Implications. Dr. Spillman has published in a variety of publications including: International Journal of Human Ecology, Clothing and Textiles Research Journal, Family and Consumer Sciences Research Journal, Dress, Symbolic Interaction, and Encyclopedia of World Dress and Fashion among others. She has served on the Editorial Board for Clothing and Textiles Research Journal (1995-2001) and co-edited a special issue on Dress and Appearance in Sociological Inquiry (1997).
Dr. Spillman's professional service also includes being an active member of the Costume Society of America, Southeast Region since 1993. She served as the symposium chair for the 2011 CSA Southeast Region at Shaker Village at Pleasant Hill near Harrodsburg, KY. She also served as chair of the Jim Liles Student Travel Committee from 2001-2010. In 1996, Dr. Spillman co-developed "On Top of it All, Hats Women Wore: 1870s-1970s," an exhibit of 45 hats from the Betty Eastin Costume Collection housed in the Department.
Contact Information
kspill@uky.edu
303-C Erikson Hall
257-7779
Education
Ph.D. University of Wisconsin, 1990 Textiles and DesignM.S. Louisiana State University, 1985 Clothing Textiles / Extension EducationB.S. Northeast Louisiana University. 1980 Fashion Merchandising
Affiliations
Gender and Women's Studies
Human Environmental Sciences
Retailing and Tourism Management