by Whitney Hale, Mack McCormick
(April 2, 2014) — University Press of Kentucky (UPK) author T.R.C. Hutton has been named the recipient of the 2013 Weatherford Award for nonfiction for his book "Bloody Breathitt: Politics and Violence in the Appalachian South." The Weatherford Award is presented by Berea College and the Appalachian Studies Association annually to honor books in fiction, nonfiction, and poetry that highlight different characteristics of the Appalachian South.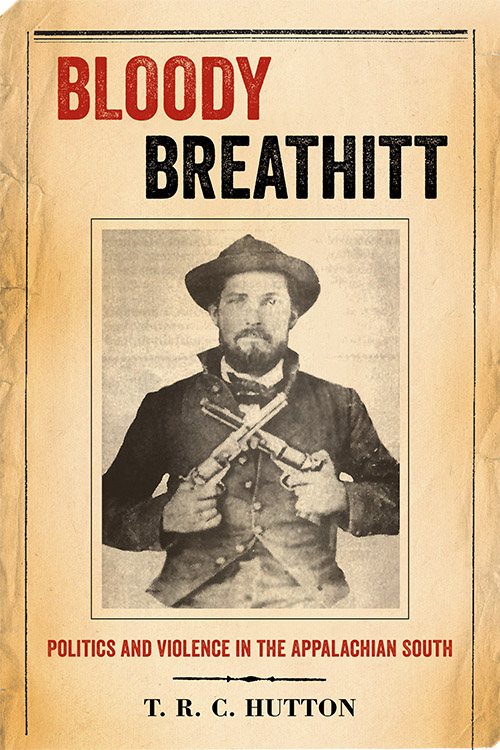 Established in 1970, the Weatherford Award commemorates the lives of W.D. Weatherford Sr., a prominent Appalachian leader, and his son Willis D. Weatherford Jr., late president of Berea College. The award was presented March 29, at the Appalachian Studies Association Meeting held at Marshall University.
In evaluating the book, one of the judges for the award noted being "surprised at the skill with which [the author] integrated analysis and narrative in a serious consideration of a topic that is usually handled anecdotally." Another award judge declared, "The breadth of secondary sources is astonishing."
In "Bloody Breathitt," Hutton casts a critical eye on Breathitt County, Ky., for the first time. From the Reconstruction period until the early 20th century, Breathitt's 500 square miles of rugged upcountry land was known as "the darkest and bloodiest of all the dark and bloody feud counties."
Hutton carefully investigates instances of individual and mass violence in the county from the Civil War through the Progressive era, exploring links between specific incidents and broader national and regional events. This meticulously researched volume offers the first comprehensive narrative of the violence in this infamous Kentucky county, examining Breathitt's brutal history and its significance to the state, the South, and the nation.
Hutton is a lecturer in the Department of History at the University of Tennessee.
UPK is the scholarly publisher for the Commonwealth of Kentucky, representing a consortium that now includes all of the state universities, five private colleges and two historical societies. Led by Director Stephen Wrinn, its editorial program focuses on the humanities and the social sciences. Offices for the administrative, editorial, production and marketing departments of the press are found at UK, which provides financial support toward the operating expenses of the publishing operation.