By Sarah Geegan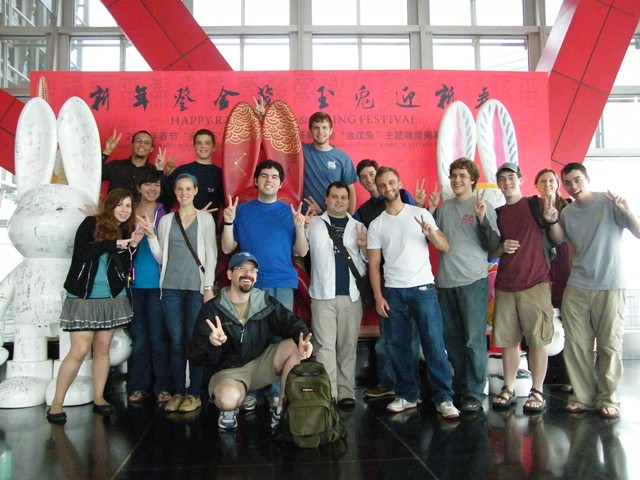 With the school year freshly completed, 11 students in the College of Arts and Sciences are kicking off the summer in a unique way— with a 4-week intensive language and culture program in Shanghai, China.
The faculty-led program, supported by the Chinese Studies program in the Department of Modern and Classical Languages, Literatures and Culture, will advance the students' conversational fluency in Chinese. It will also introduce them to traditional and modern aspects of Chinese culture such as calligraphy, tea houses, Shanghai's history and contemporary society.
Assistant Professor of Chinese Matthew Wells said that the 4-week program is structured to optimize the students' learning while they are there.
"The benefit of our program is that it is faculty-led," Wells said.  "This means that they get to travel and explore China with someone who really knows the language and culture, and who can provide them with some perspective on their experience."
Chinese major Christy Neely is among the students participating. After taking Chinese courses for two years, Neely said she couldn't pass up the opportunity to take conversational Chinese classes in Shanghai.
"While I'm there I will be taking a lot of Chinese language classes," Neely said. "Every weekday consists of four hours of classes in the morning. Occasionally there are culture classes as well. I am really looking forward to those, which will include Taiji, calligraphy and an acrobatics show."
Neely said she is also excited about the cultural trips that the group will take.
"Besides class, the group is going to Hangzhou, the world famous Bund, the Shanghai Museum and other exciting trips," Neely said. "I am really looking forward to it."
The Chinese Studies program only recently developed a curriculum for Chinese majors. Slowly established over the last three years, the coursework emphasizes language acquisition and cultural fluency as complementary aspects of the same curriculum.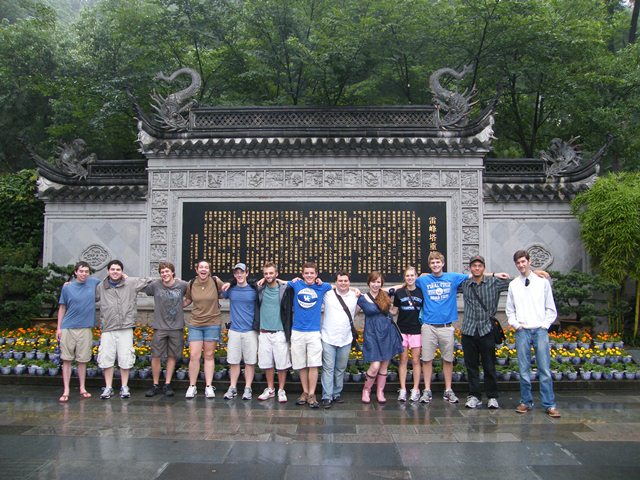 "We teach cultural studies courses on modern and traditional China in English, but we hope students will gain enough of an understanding of Chinese history and culture to realize how important it is to study the language if they want to further their interests," Wells said. "Advanced language students have opportunities to refine their language skills with research papers and independent study working with sources in Chinese."
Wells described Neely's preparation as perfect for studying abroad. With two years of course work in Chinese language, Wells said she has a strong foundation for language immersion and a strong cultural knowledge that will allow her to capitalize on her experiences there.
"If I had my way, I'd send every student after their first or second year with the language on our summer program," Wells said. "Once you go, it gets under your skin, and once you start having conversations with random people and realize, 'Wow, I can really do this and really learn this!' you never look back. I remember that moment for me, on my first trip to China."
Wells said that maintaining the student-centered nature of the program will be essential to encouraging future majors to engage in education abroad. As the program is small enough to address to the needs and interests of individual students, he said that the faculty strive to recreate the atmosphere of a small liberal arts college at a large land grant institution.
"Once they study abroad, students realize how closely their habits, ways of communicating, and perspectives are shaped by their cultural background. Professors say that all the time, but once you go abroad you finally get it," Wells said. "I think the university is really committed to providing that experience to Kentucky students."
As far as Neely is concerned, she says the Chinese program has amply prepared her for her experience in China.
"I am not nervous at all!" Neely said. "I can't wait to set foot in the Shanghai airport. I am hoping that I not only get great language exposure, but also traveling experience. I really look forward to diving head first in a new culture."