By Keith Hautala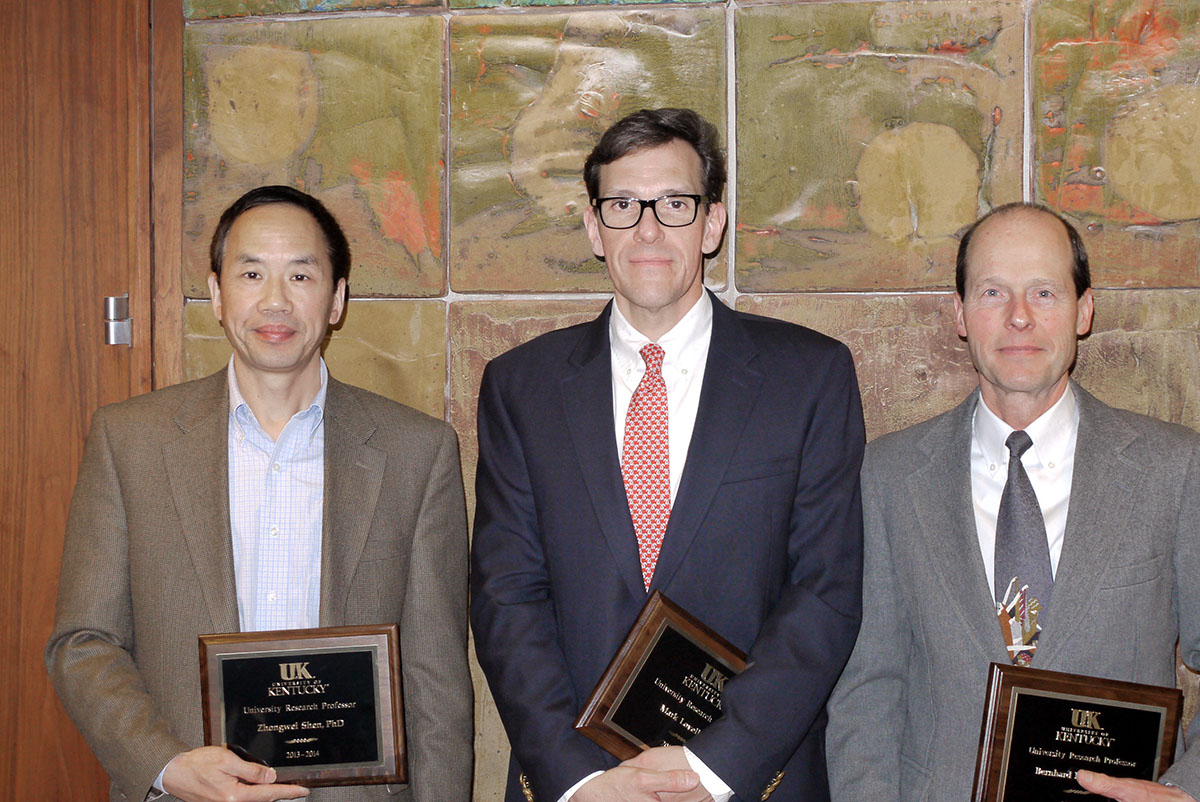 The University of Kentucky Board of Trustees today approved University Research Professorships for 2013-14 for four faculty members. The professorships carry a $40,000 award to support research. Funds for these annual awards are provided by the Office of the Vice President for Research.
Now in its 37th year, the University Research Professors program's purpose is to enhance and encourage scholarly research productivity, to provide an opportunity for concentrated research effort for selected faculty members, and to recognize outstanding research achievement by members of the faculty.
The 2013-14 University Research Professors are:
Hennig, a professor in the Department of Animal and Food Sciences within the UK College of Agriculture, has developed a highly regarded personal research program that is broadly focused on understanding mechanisms underlying the beneficial effects of selected nutrients on human health.
In recent years this work has focused on studies of polyunsaturated fatty acids and polyphenols as nutritional protectants against the toxic actions of polychlorinated biphenyls. This research has produced a steady series of publications in well regarded journals, recognition with awards, and regular participation in national and international meetings as an invited speaker.
Hennig has been a member of the UK faculty since 1984. Since 2001, he has served as editor-in-chief of the Journal of Nutritional Biochemistry, a highly respected journal for research into the biochemical basis of nutrition. Since 2003, he has been the director of the UK Superfund Basic Research Program (SRP), funded by the National Institute of Environmental Health Sciences.  The most recent competitive renewal of the UK SRP center grant provided almost $10 million to support research conducted by investigators at the University of Kentucky in the Colleges of Medicine, Agriculture, Engineering and Arts and Sciences.
Korsch, a professor in the Department of Physics and Astronomy within the UK College of Arts and Sciences, is internationally recognized for his work in experimental nuclear physics. His extensive, collaborative research program is focused on understanding the structure of nucleons. He has conducted experiments at Jefferson Laboratory in Newport News, Argonne National Laboratory in Chicago, and Oak Ridge National Laboratory near Knoxville.
In a field involving long-timescale and difficult experiments, Korsch's prolific publication record has been truly remarkable. He has had more than 100 publications in refereed journals, including more than 20 papers in Physical Review Letters, the premier physics journal. His record includes landmark publications on neutron structure and groundbreaking work on laser-polarized helium-3 targets. His continual funding from the Department of Energy is further testament to his stature within the field.
Korsch has been a member of the UK faculty since 1996.  He has had an exceptional record of mentoring graduate and undergraduate research and has taught classes at levels from introductory physics to capstone and topical physics classes.                        
Lovell, a professor in the Department of Chemistry within the UK College of Arts and Sciences and a researcher at the UK Sanders-Brown Center on Aging, has focused his reseach program on studies of oxidative damage in the progression of Alzheimer's disease. He is currently working to develop a potential diagnostic test for the disease.
His research has been extremely well funded. As a principal investigator, Lovell has been the recipient of several NIH R01 grants, and he has been a project leader on multiple NIH program project grants. Currently, he has three NIH grants and plays a principal role in a program project grant at Sanders-Brown. He is the author or co-author of about 100 publications in journals that include Neurology, Annals of Neurology, Nucleic Acids Research and Antioxidants and Redox Signaling, and he has authored five book chapters.
In addition to his research, Lovell has taught a variety of advanced chemistry courses, as well as "Chemistry on Television," an experimental course that uses episodes of popular science-inspired TV programs such as CSI to introduce techniques from instrumental chemistry, biochemistry and molecular biology to nonscience majors. In 2011, he was named the Jack and Linda Gill Arts and Sciences Research Excellence Fund Professor in Chemistry.
Shen, a professor in the Department of Mathematics within the UK College of Arts and Sciences, has developed an energetic research program in homogenization theory, an area of central importance and current interest in both pure and applied mathematics.
Shortly after his arrival at the University of Kentucky in 1995, Shen was awarded the prestigious Centennial Fellowship from the American Mathematical Society, given each year to two of the most promising young mathematicians nationwide. In the 17 years since, he has held six single-investigator research grants from the National Science Foundation and has consistently published in high-ranking scholarly journals such as the Courant Institute's journal, Communications on Pure and Applied Mathematics, the Duke Mathematical Journal, and Communications in Mathematical Physics.
In recognition of his cumulative contributions to mathematics research, Shen was recently selected for the inaugural class of the American Mathematical Society's Society of Fellows.