by Carl Nathe and Nathan Schwake
Recently, eight UK female student-athletes, along with members of the athletics department staff, participated in a service trip to Ethiopia. On the trip were Megan Moir from women's golf, Brooke Keyes and Kayla King from women's soccer, Kayla Hartley from gymnastics, Grace Trimble from women's tennis (political science major), Kastine Evans from women's basketball, Emily Holsopple from rifle (biology major), and Aubrey Lamar from softball. Each student was nominated by her respective head coach for this trip.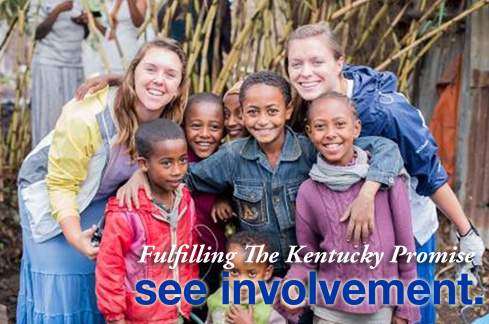 This is a wonderful example of how UK students and staff involve themselves in efforts so much bigger than themselves. This article is excerpted from blogs written by several of the student-athletes. 
For the second consecutive year, a delegation of student-athletes and others from the University of Kentucky Athletics Department traveled to Ethiopia in July to spend a week in service to citizens in that proud, but impoverished African nation.  The brainchild of UK Senior Associate Athletics Director Jason Schlafer, these service trips have turned out to be even more rewarding and life changing for the individuals who give of themselves than they are for the grateful people on the receiving end of their efforts.
Perhaps the best way to convey this in an article is to quote from several of the blog posts which were written by the Wildcat student-athletes themselves as they shared their time and talents.
Consider part of the entry from Aubrey Lamar, a member of the UK softball team, after a visit to a women-only maternity house, which teaches pregnant women a skill in order to be able to support themselves and their baby in the near future.
"This week, I have been struggling with being overwhelmed with the number of people who are in need of food, shelter, or most importantly and something that doesn't cost a dime (or a birr)...love," said Lamar.  "I have been reminded this week that one person cannot save a country; it takes many people with a common goal.  However, I can make a small impact on the few people I come in contact with during this trip.  I am so thankful that Ethiopia at least has one maternity house and can make an impact on the lives of women."
After a visit to an orphanage and widows' home later that same day, Lamar wrote, "I have met some of the most incredible people with the biggest hearts here in Ethiopia. The people have basically nothing, yet they want others to be blessed before themselves."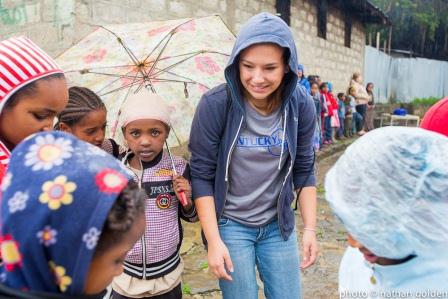 Emily Holsopple of the rifle team commented on her experiences at the Compassion International Drop-In Center, a combination community center/school/church/playground, and other places she and the other members of the UK group got to visit.
"In my twenty short years on earth, I have been blessed enough to do a lot of traveling and see a number of different places, but I can't compare the experience Ethiopia has given me to any other trip. I am so grateful for the opportunity to serve here and the knowledge it has brought me."  Holsopple added, "I feel as though I can't say thank you enough to all the people who made this trip what it has been.  My only hope is that I can carry with me all of the things I learned this week, share them with the people back home and use them to make myself a better person."
Soccer's Brooke Keyes was eloquent in her blog post from the airport summing up her feelings as she and her fellow student-athletes waited to depart for the trip back home to Kentucky.
"A large piece of my heart will be left here in Ethiopia. I am so thankful to be a part of this trip and share this experience with seven other wonderful student-athletes, and three incredible adults that made us feel like adults as well as their friends.  On this trip, my heart broke into a thousand pieces and then it was repaired to full.  I learned so much from this country, but I narrowed it down to my top ten:
10. I need to listen and be still more often.
9. I am so ungrateful.
8. I need to be intentional about getting to know other UK student-athletes.
7. I need to marry a man who is grounded and keeps me grounded.
6. I will adopt one day.
5. The eyes say so much more than the mouth.
4. God is everywhere... we just cease to realize it.
3. Money is so overrated.  So is the "American Dream."
2. I never want to settle for living comfortably.  I want to be challenged and take risks.
1. The greatest need in the world right now is TIME.
"There is no way we are coming back to America the same as when we left. Thank you to all who made this trip possible."
The old saying, 'We make a living by what we get…We make a life by what we give,' would sure seem to apply here.