Video by UK Public Relations and Marketing
by Sibel Solagan
(Nov. 19, 2014) — As UK celebrates its sesquicentennial this year, one faculty member in particular has plenty to remember about his history with the university.
 Out of 150 years, I've experienced 58 years of UK's history. Technically, I'm in my 116th semester," said Pradyumna (Paul) Karan, who is originally from India.    
In August of 1956, Martin M. White, dean of the UK College of Arts and Sciences, hired Karan to teach geography – making Karan one of the first international faculty members in UK's history.
"[Dr. White] couldn't say my name – that's when he asked if he could just call me Paul. It's been my name ever since," Karan said.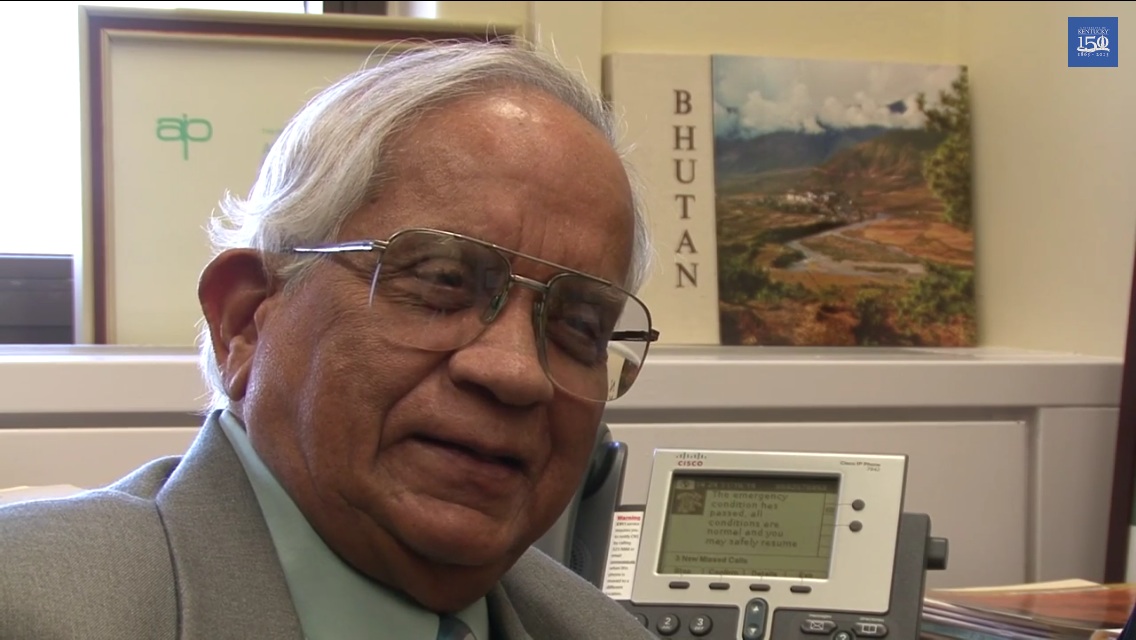 At the time, Karan had just received his doctorate in geography from Indiana University, which was something that few Indian natives chose to do with their graduate experience. Rather, many Indian nationals opted to go to London due to the colonial ties with the United Kingdom. However, through connections he had made at a conference for American geographers, Karan chose to come the U.S. to pursue his studies and explore the American "wild west."
"When I left India, I hitchhiked all across the U.S. to the West," Karan said. "It was nothing like the old western movies that I watched in India. However, education was always a top priority. Education was important to my family; it's the same in most Indian families."  
At UK, Karan would experience many important changes happening at UK.  He describes 1956 as a "wake-up year" for campus. 
That year, the university had fewer than 9,000 students and about 200 faculty members, according to Karan. The UK Chandler Hospital was being built. In addition, numerous businesses were coming into Lexington, such as IBM (later the facility became Lexmark). These big changes to Lexington's landscape also influenced the growth of the population and diversity within the city and within UK.
"A lot of people were coming from the East Coast to work with IBM, and the new medical center was also bringing in many people from around the country," said Karan. "Many Lexingtonians didn't want outside influences in their community. The old, strictly Southern character of Lexington was definitely changing."
When Karan was hired, there was little international activity on UK's campus.
"UK had no department or area that focused on international matters like we have now," Karan said. "There was only one foreign student advisor who would sign student visas, etc. UK's sixth president, John Oswald, really fostered internationalization at UK. Coming from California, Oswald created a sense of community at the university. He knew the importance of research and diversity within an academic atmosphere; he brought many Ph.D. programs and got all kinds of funding from the government. He was a very open and transparent president with boundless energy."
Also helping to broaden UK's horizons, Toyota opened up a facility in Lexington in 1984, not only transforming the economic growth of central Kentucky, but also generating interest in Japanese studies at UK.
"That year, Japanese was first taught at UK," said Karan, who also took an interest in Japan after meeting with Japanese researchers in the Himalayas. "Then UK received the Japanese Foundation grant, which was basically seed money to grow UK's Japan Studies Program. It started with humble beginnings, but in the past 25 years, Japan Studies has grown into a good program." 
Taking a leave of absence from UK from 1957-59, Karan worked for the United Nations to develop an economic plan for Nepal, where he made an inventory of general land use patterns to help grow Nepal's economy.
Although Karan is passionate about documenting geographical matters worldwide (specifically within Southeast Asia), he has developed a love for his home in the Bluegrass state.
"It wasn't hard for me to consider going back to Kentucky; there was good climate – not too hot, not too cold – plus there were nice people," Karan said. "I knew, though, that I wanted to do work eventually with Japan. I thought Japanese landscape was amazing, and I appreciated everything about Japanese society and industry."
In 1980, Karan would be a visiting professor in Japan for one year – by 2000, Karan would be a visiting professor three more times.
From experiencing different geographies as he worked abroad to seeing the landscape of UK grow, Karan has also seen changes within his students.
"In my early years at UK, my overall impression was that it was a party school," Karan said. "There were serious students, but UK had many students who didn't really care about their academics. Now, the quality of students has improved; they are overall more responsible and care about their classes."
Karan is still passionate about teaching at UK; 1956 may have been a critical year for the development of the university, however that year was also instrumental because UK was able to obtain a faculty member who has helped educate thousands of students on geography and international matters. 
"I look at college as a time in life to build character and personality," said Karan. "I try to teach my students to be good members of the community."
And Karan, who is now in his mid-80s, has no immediate plan to retire.
"I plan to continue teaching and traveling as long as my health is good. I could have retired 20 years ago, but I like listening to students. I still get excited going into class."