by Erin Holaday Ziegler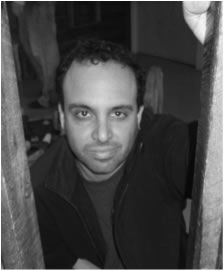 Jeff Rice will join the faculty of the University of Kentucky this fall as a pioneering recipient of the Martha B. Reynolds Endowed Professorship for Digital Media in the College of Arts and Sciences' Division of Writing, Rhetoric and Digital Media (WRDM). 
Formerly an associate professor of English and director of the Campus Writing Program at the University of Missouri, Rice has published over 20 articles and chapters in new media, composition, pedagogy and rhetoric. 
"We're moving away from studying a subject in the classroom and toward a product with media like websites and video," Rice said. "It's more than lecture, lecture, lecture."
Rice's research and curriculum ideas are like Web pages filled with multiple narrative strands — similar to the multiple tabs you might have up on your screen right now — along with an incoming text message, and perhaps an old-fashioned phone call.
"This is how our brain organizes thoughts, and it's not a bad thing," Rice said. "If you compare how we viewed media in the era of Walter Cronkite, it's just different."
Look at advertising.
"The ad industry moves with the moment," Rice said. "In this world of the Web page, the linear paragraph essay becomes irrelevant."
While this might seem like music to the ears of struggling English students, it's not that simple. Rice's classes will juxtapose experience, history, politics and folklore with writing.
"For example, we'll look at food and eating habits," Rice said. "Why do you want to write about anything? You have to be interested in the subject. If it's organized and well-researched, you're still learning the basic skills."
Hidden beneath pop culture and local issues is the intersection of ideas and experience.
"That's where the writing comes in," Rice smiled. "Everyone has a different angle on an experience, a place or a time."
And Rice practices what he teaches.
In addition to his academic work, Rice blogs at Yellow Dog and Make Mine Potato, where he is sketching out a new book project on Web 2.0 and the rhetoric of obsession in the craft beer industry, tentatively titled "Craft Obsession."
Rice recently finished his second book, "Digital Detroit: Rhetoric and Space in the Age of the Network," a project that explores a networked rhetoric via the city of Detroit.  Rice also authored "The Rhetoric of Cool: Composition Studies and New Media" in 2007 and the textbook "Writing About Cool: Hypertext and Cultural Studies in the Computer Classroom" in 2004. 
"The media reinvented itself in 1963, and the world ignored it," Rice said. "It was the age of films like 'American Graffiti' … you had new technology, the advancement of cultural studies and visual writing, which are now a vital part of composition studies."
Rice plans to use his endowed professorship to bring high-tech opportunity to students, faculty and staff throughout UK's campus.
"I hope to have more technology and writing events, conferences, symposiums and guest speakers for undergraduates and graduates in new media," he said. "I'm also wondering what kind of text we can create with new technology. You don't simply assign the same tasks with something new. Language is used differently."
In addition to teaching WRDM classes at UK, Rice is one of three professors teaching and creating curriculum for the A&S Wired College launching this fall; he's jumped into myriad multi-disciplinary committees on campus as well.
And while this multifaceted multimedia professor ponders what wired freshmen can do with their iPad 2's, contemplates a technology summit, completes a book, maintains two blogs, edits at least two journals and creates new Arts & Sciences curriculum ... he never stops thinking of what's next.
With a background in writing across the curriculum at MU, Rice is accustomed to getting people together in unique conversations. His role in WRDM at UK will be no different. "You never fail to learn from each other in these situations," he said. "It's about collapsing the siloes. Communication is everywhere."