By Whitney Harder
(July 16, 2015) — The University of Kentucky College of Arts and Sciences has named Shaunna Scott as the new director of its Appalachian Studies Program and Christopher Barton as the new director of the Appalachian Center.
"Chris Barton and Shaunna Scott will make a great leadership team along with the staff of the Appalachian Center," said Ann Kingsolver, former director of both the Appalachian Center and Appalachian Studies Program. "They are both experienced with university/community partnerships, and both are interested in a sustainable future for Appalachian Kentucky communities. They will represent UK well in current broader conversations in the region."
Kingsolver served a four-year term as director and will now be a professor in the UK Department of Anthropology and will continue her work on rural Kentucky's global connections.
"I have appreciated being able to work with so many wonderful colleagues in communities across the 54 Appalachian counties of Kentucky and all the colleges of UK," she said.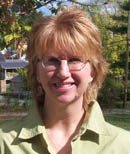 One of the first Appalachian studies minors to graduate from UK, Scott earned her bachelor's degree in 1982 with a double major in anthropology and political science. She also holds a master's degree and doctoral degree in anthropology from the University of California, Berkeley.
Scott began her professional career at UK as an assistant professor of sociology, is now an associate professor, and will continue in her current role as director of graduate studies in the Department of Sociology until Aug. 1.
The author of numerous publications on Appalachia, Scott, with co-authors Chad Berry and Phil Obermiller, recently released "Studying Appalachian Studies: Making the Path by Walking."
Scott is currently the editor of the Journal of Appalachian Studies and previously served as acting director of Appalachian Studies from 2001-2002, director of the program from 2002-2006 and president of the Appalachian Studies Association from 2007-2008.
She has also served on the steering, finance and communications committees of the Appalachian Studies Association; the editorial board of the Journal of Contemporary Ethnography; the steering committee of the International Rural Sociological Association; the awards and endowment committees of the Rural Sociological Society; and the Trail Town Task Force in Elkhorn City, Kentucky.
Scott received the UK College of Arts and Sciences Distinguished Faculty Award for Community Engagement or Service in 2015.
"I am looking forward to working with the Appalachian Studies faculty, Appalachian Center staff and our new director, Chris Barton, to provide a quality education for UK students interested in the region," Scott said. "As one of the first students at UK to graduate with an Appalachian studies minor in 1982, I benefited greatly from excellent courses, active mentorship and internship opportunities. I am honored to be allowed to 'pay that forward' to a new generation of UK students."
Christopher Barton, professor of forest hydrology and watershed management, joined the UK College of Agriculture, Food and Environment's Department of Forestry in 2003. Barton received his bachelor's degree from Centre College. He earned his master's in plant and soil sciences in 1997 and his doctoral degree in soil science in 1999 from UK.
Barton previously worked as a research hydrologist for the U.S. Department of Agriculture Forest Service, stationed at the U.S. Department of Energy Savannah River Site in South Carolina from 1999-2003.
He has written and presented extensively on environmental and natural resource issues in Appalachia and is the co-team leader of the Appalachian Regional Reforestation Initiative's Science Team.
He founded and is the current president of the Board for Green Forests Work, a nonprofit organization whose mission is to restore forests and associated ecosystems on lands that have been impacted by coal mining in Appalachia. More than 1.6 million trees have been planted in Appalachia since 2009 through the initiative.
Barton is currently serving on the editorial boards of the International Journal of Phytoremediation and the International Journal of Mining, Reclamation and Environment.
He also serves on the steering committee for the UK Natural Resources and Environmental Science program; the Committee on Research and Policy at the Kentucky Water Resources Institute; and is a UK representative for the Consortium of Universities for the Advancement of Hydrological Sciences.
Barton has received the Presidential Migratory Bird Federal Stewardship Award and the Partners in Conservation Award from the U.S. Department of Interior for his work with the Appalachian Regional Reforestation Initiative. He received the C. Peter Magrath University Community Engagement National Outreach Scholarship Exemplary Program Award from the Association of Public and Land-Grant Universities. Most recently, he received the Reclamation Researcher of the Year Award from the American Society of Mining and Reclamation.
"My goal as director is to maintain strengths that the center currently possesses, but add focus to the environmental and natural resource issues that largely define the Appalachian region and are intertwined in the culture of its people," Barton said. "This would bolster the center's participation in science-related research and outreach and advance communication and conversations on emerging topics that will have major ramifications on the land and livelihood of those who live there. Those topics are certain to include climate change, alternative energy, rural health, land rehabilitation and species conservation. I am very excited about this opportunity and look forward to working with our community partners and the faculty, staff and students at UK."