A Global 2050 Vision
The partnership between the University of Kentucky and the Beijing Institute of Technology Zhuhai opens opportunities for Chinese and American students
By Jennifer T. Allen
The University of Kentucky and the Beijing Institute of Technology Zhuhai (BITZH) began a partnership last year to build a cultural bridge between the two countries and create opportunities for Chinese and American students. With 19 BITZH students currently studying in Lexington and a new dean at the helm of the Sino-US College in Zhuhai, the benefits of the partnership are already becoming apparent.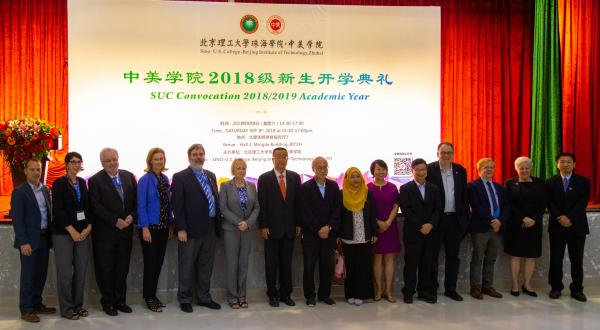 "The Beijing Institute of Technology Zhuhai is a really exciting new type of university in China," said Mark Kornbluh, dean of the College of Arts & Sciences at the University of Kentucky. "The Chinese government has made land available to the top universities in China, but they are public/private partnerships. This means the universities are much more entrepreneurial and eager to build connections across the world than most international universities."
Dean Edmund S.T. KWOK of the Sino-US College at BITZH brings immense experience to his new position. Before leading the Sino-US College, Dean KWOK founded the Honor's College at BITZH, served as the founding executive vice-president for Beijing Normal University-Hong Kong Baptist University United International College, was founding president of Xing Wei College in Shanghai, served as the vice-chairman of Peter Drucker Academy Group (China), and advised Gratia College in Hong Kong and Wuhan College in Mainland China in designing their general education programs. These experiences have helped Dean KWOK create his Global 2050 vision, which includes three perspectives: cultural heritage, global horizon and future vision.
"I believe Chinese students really have to develop a stronger, more solid foundation for the understanding of Chinese culture," Dean KWOK said. "Otherwise, if they go to the University of Kentucky, they won't be able to share the experience. In this way, they are ambassadors for China."
The partnership between the University of Kentucky and the Sino-US College at BITZH allows Chinese students to complete their last two years of study in Kentucky and earn degrees from both universities. "This brings in the second aspect of the Global 2050 vision," Dean KWOK explained. "After two years here, our students go to the United States to really broaden their horizons. Hopefully through this global experience, they can see a more diversified America and really appreciate the best parts of American culture."
As part of the partnership, the College of Arts & Sciences at the University of Kentucky sends faculty members to teach at BITZH during the summer and sent the first group of American students to Zhuhai for a special cross-cultural summer program in China with BITZH students this summer.
"This is a real robust, exciting new partnership for the 21st century," Dean Kornbluh said. "The new dean of the Sino-US College has an incredible vision for global education. We are going to work together to build a new generation of leaders that can communicate across the wide cultural divide. This is an exciting vision for us to be able to partner with."
Dean KWOK's model at the Sino-US College uses a Content Language Integrated Learning (CLIL) approach, which is a pedagogic model of constant language integration. The approach initially used was developed in Europe with the European Union and spread to different parts of the world, including Hong Kong.
"This is a very good approach to get students to learn a second language," Dean KWOK said. "We have used it to change all of the pedagogic models for our courses, whether they are computer, economics or mathematics."
The CLIL approach is only a piece of what students at the Sino-US College will experience. Students all have extra courses in general education and interdisciplinary studies in their first year, receiving a much broader foundation, Dean KWOK said. Student's also take part in a mentor program and receive support from the Office of Academic Affairs, the Office of Student Affairs, and the Office of Social Engagement and Admission Services.
"I don't think any other university has done a transition and transformation of a whole college like this. I think we are probably the first in China," Dean KWOK said. "If we can produce good results after one year, we are going to be recruiting better students."
The Sino-US College is also setting up a platform called Innovative Development for Education Enhancement to facilitate innovation. It will be a way for colleagues, faculty and administrative staff to design their own research, teaching or learning projects. The second platform is focused on strategic planning for the whole college – Leading Education for Future Talent (LEFT).
"We would like to work closer with the University of Kentucky and develop contacts with the university and its colleges to bring in programs we'd like to develop," Dean KWOK said. "In this way, hopefully the University of Kentucky collaboration will expand and we will be able to work closer. This is why Global 2050 is so important."
With Dean KWOK's new vision beginning to take shape at the Sino-US College, both Chinese and American students have many opportunities. "Not only will we bring the world to our University of Kentucky students, but we are bringing many of our students to learn more about China and have a Chinese cultural experience through this unique partnership," Dean Kornbluh said.
Looking forward brings in Dean KWOK's third perspective: future vision. "The world is changing so rapidly and China is changing so rapidly that if we want our students to be global citizens, we really need to provide them with a global perspective with a future vision," Dean KWOK said.
Dean KWOK envisions faculty exchanges between the two universities, student exchanges and interactions both in person and online, and joint teaching between faculty.
"This partnership has started on really strong ground through student and faculty exchanges. We would like this to grow across disciplines so students in the sciences have the same experiences as social science students. We would also like to continue to build strong connections between faculty," Dean Kornbluh said. "Our partnership started with the Sino-US College at BITZH, but under the leadership of the new dean we are extending it to the other colleges at the university that can relate to the breadth of the College of Arts and Sciences."
International partnerships such as this would not be possible without a University-wide focus on international education. "I'm excited that under the leadership of Sue Roberts, associate provost for internationalization, we are growing our engagement in international education. We are looking to bring more students to the University of Kentucky from all around the world and to send our students everywhere in the world," Dean Kornbluh said. "It is important to provide a global education for the 21st century and for the College of Arts & Sciences, this is a necessity. You have to be able to connect with the world and so much of what we do in this college is about building bridges, building cross-cultural understanding, and being able to talk in each other's languages. We are thrilled the university continues on an upward commitment in this area and we are committed to leading that charge."