Location:
Stuckert Career Center
Speaker(s) / Presenter(s):
UK Alumni and Local Professionals
 More Information Here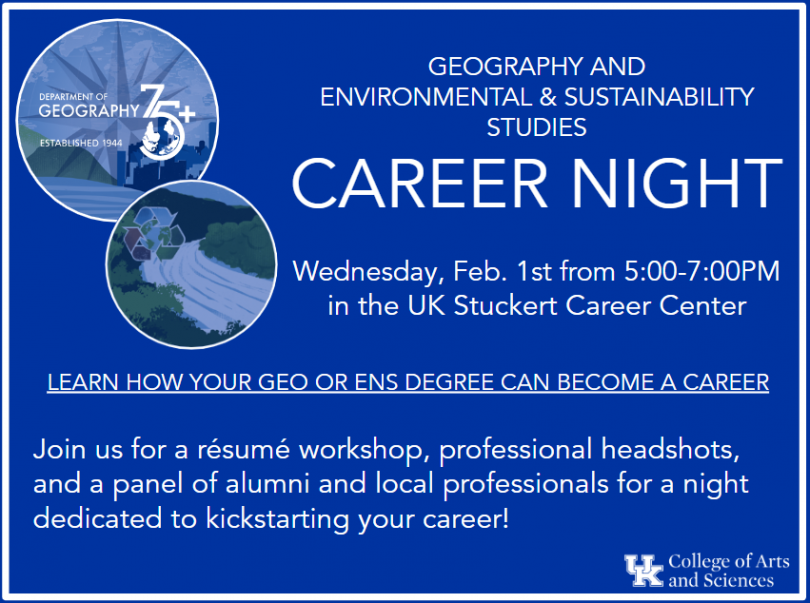 2023 Panelists
Katie Brown received her degree in Geography with a minor in Biology from the University of Kentucky in May of 2020. During her time in Lexington, she had developed an interest in the interplay of health and space, which continues to guide her work today. Currently, Katie is a Ph.D. Student in the Department of Geography, Environment, and Spatial Sciences at Michigan State University. Since joining the program in the Fall of 2021, Katie has contributed to multiple research projects, attended major conferences, and had the chance to work in the field collecting various forms of data. While still in the formative stages, Katie's intended dissertation involves assessing how urban transformations impact residents' mental health. She plans to look at the case of Detroit, MI, where many legacy residents may be affected by the rapid physical and social neighborhood-change occurring. Upon completing her degree, Katie hopes to stay in a university setting and contribute to research surrounding health equity.
Sean Conway is an Orthoimagery Technical Expert with NV5 Geospatial, graduating from UK Geography in 2014. Using the tools and techniques he learned during his time at UK, he advanced to his current position overseeing large scale imagery projects. On Twitter and Instagram: @geo_spatialist. 
Amanda Curry works as a Compliance & Operations Staff member in the ​Director's Office of the Energy and Environment Cabinet of Kentucky. She grew up in Kentucky in Woodford County on a family farm where her curiosity and love for the environment began. Curry originally attended UK from 2000-2002, but left to begin a family and worked in a variety of administrative capacities. In 2018, she had the opportunity to return to UK to finish her degree. She was the 2020 ENS Outstanding Senior and graduated with honors (magna cum laude) with bachelor's degrees in both ENS and Geography, with minors in Appalachian Studies and GIS/Mapping. She currently works as an Environmental Scientist II in the Division of Enforcement with the Department for Environmental Protection at the Kentucky Energy and Environment Cabinet and she is excited about the work I am currently doing, mostly in relation to wastewater compliance monitoring, and the projects that I will be working on soon including dam safety, environmental justice, and a variety of GIS projects.
Sam Harmon graduated UK in December 2019 with a Bachelor's in Environmental and Sustainability Studies as well as a Bachelor's in Political Science. In the Fall of 2020, he began law school at the J. David Rosenberg College of Law here at UK. He has also accepted a post-grad associate attorney position at Porter, Banks, Baldwin & Shaw, PLLC, right here in Lexington where he plans to continue his legal career in civil litigation with a focus on insurance defense.
Rachelanne Knoll serves as Eastern Kentucky University's Sustainability Manager where she works to enforce their Climate Action and Resiliency Plan. She strives to engage the EKU community in a variety of her own passions including sustainable food systems, equity and environmental justice.
Ryan Lark is a sustainability professional and advocate currently serving as the University of Kentucky's senior level Recycling/Waste Reduction Specialist. He has previously worked for the Kentucky Division of Waste Management, U.S. Geological Survey, and UK's Center for Applied Energy Research. Ryan holds a BS in Environmental & Sustainability Studies, Biology, and Animal Sciences as well as a Graduate Certificate in Digital Mapping from UK.
Sandra Martinez (she/her) is part of the Accounts Management team at Grid Principles. She is dedicated to bringing a creative approach to problem solving. For the last 5 years, she has worked to implement systems and processes at nonprofits and startup initiatives to aid in scaling efforts. Her curiosity for learning has kept her research mind ablaze. It's this passion that drives her to dive deep into clients' needs and holistically understand the 'Why' behind a project's goal helping to deliver exceptional web products. Outside the office, she stays busy exploring the trails in Kentucky. As a DACAmented individual, she strives to always advocate for her community and stays involved in community-oriented work.
Cassie Odum received her Bachelor of Arts in Geography and Environmental & Sustainability Studies from the University of Kentucky in 2018. After working in Lexington for a few years as an environmental educator with EELCorps (an Americorps State program) and as a laboratory technician at a water quality lab, she returned to her hometown of Indianapolis in 2021 in pursuit of a career in community development. She currently works with the City of Indianapolis as a Project Development Analyst, where she enforces residential building code and local zoning ordinances for commercial and residential development projects, and hopes to begin a graduate program for sustainable development/environmental planning this coming fall. 
Type of Event (for grouping events):