By Katy Bennett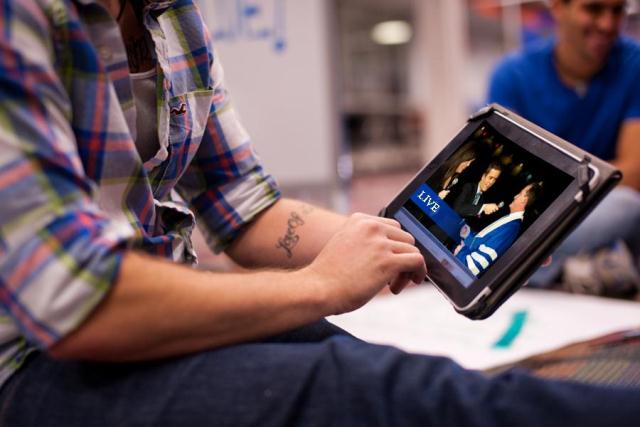 The University of Kentucky is honoring its August and December graduates with December Commencement this Friday, Dec. 16, 2011, and friends and family of our graduates who cannot make it to Lexington do not have to miss out on this special event. UK is utilizing social media and other technology to bring Commencement to your computer or mobile device.
Both the Graduate and Professional Students and Undergraduate Commencement ceremonies will be live-streamed online at www.uky.edu/uknow, the University's daily news website. Fifteen minutes prior to each ceremony's start, "Live from the Big Blue Carpet" will air and features students, faculty and special guests as they prepare for Commencement and is hosted by students from the School of Journalism Telecommunications' broadcast journalism program.
The graduate and professional student ceremony begins at 1:30 p.m., with the preshow starting at 1:15 p.m. The undergraduate ceremony begins at 6 p.m., with the preshow beginning at 5:45 p.m.
Followers of UK's Twitter account (twitter.com/universityofky) can follow along with the Commencement activities via live tweet prior to and during the event. Twitter users are also encouraged to use the hashtag #ukgrad to honor all our graduates.
Graduates can view the ceremony beginning Dec. 21 on the University's YouTube site at www.youtube.com/universityofkentucky.
December Commencement is Friday, Dec. 16. Degrees for doctoral and master's candidates will be conferred at 1:30 p.m. Bachelor's degrees will be conferred at 6 p.m. Both ceremonies will take place in Memorial Coliseum.