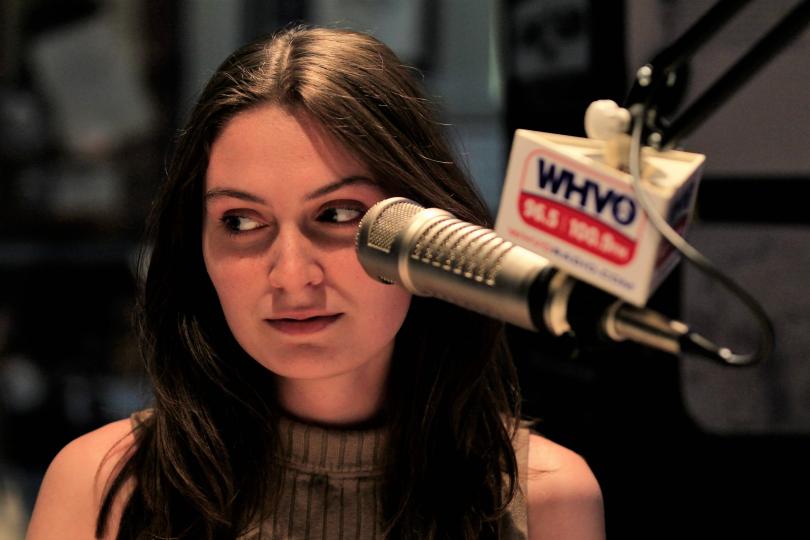 By Richard LeComte
LEXINGTON, Ky. -- Nolia Williams spent her summer mixing her psychology and journalism majors in western Kentucky, where she got to talk to people affected by the ravages of environmental disasters. 
Working for the news network of the Edge Media Group, Williams wrote and recorded stories about tornado relief near Princeton and Hopkinsville, Kentucky, as well as some good-news stories, including a program for Trigg County homemakers and free medical care for veterans.  
"I am mostly doing human interest stories," said Williams, a junior who grew up in Owensboro and now calls Hopkinsville home. "I've interviewed one of the tornado survivors, and I've covered some nonprofit organizations that are doing things in the community. For example, some endangered wolves were born at the Land Between the Lakes Nature Center, so I got to cover a story on that." 
The website for Edge Media yields extensive coverage of local news, unusual for rural areas, Williams said. In such a setup, interns get to perform a wide range of tasks both on-air and off. 
"We have a pretty big web page, so I write a lot of articles for that, and then sometimes I'll record my stories for the air," she said. "I also did live remote shows with some of the radio hosts, so I get to produce those spots as well." 
One story in particular meant a lot to her: She often wrote about Grace & Mercy, a home for women in crisis in Hopkinsville.  
"It's a really cool organization," she said. "It's a rehabilitation for incarcerated women. It helps them reunite with their families, and it gives them a job and helps them get back out into the community. I've covered quite a few stories about Grace & Mercy." 
As a big boost to her education in media, Williams received one of four statewide Harry Barfield Scholarships from the Kentucky Broadcasters Association. The scholarship provides $2,500 and is renewable. She believes that combining the study of psychology and journalism will boost her ability to get the stories of people told in the news media — and shows what's wildly possible when students pursue the liberal arts as well as mass media training.  
"I think I use psychology every day, just by seeing people and talking with people," she said. "With journalism, I have to go out to interview people and make them feel comfortable, and I think my studies in psychology help a lot with knowing how people think."