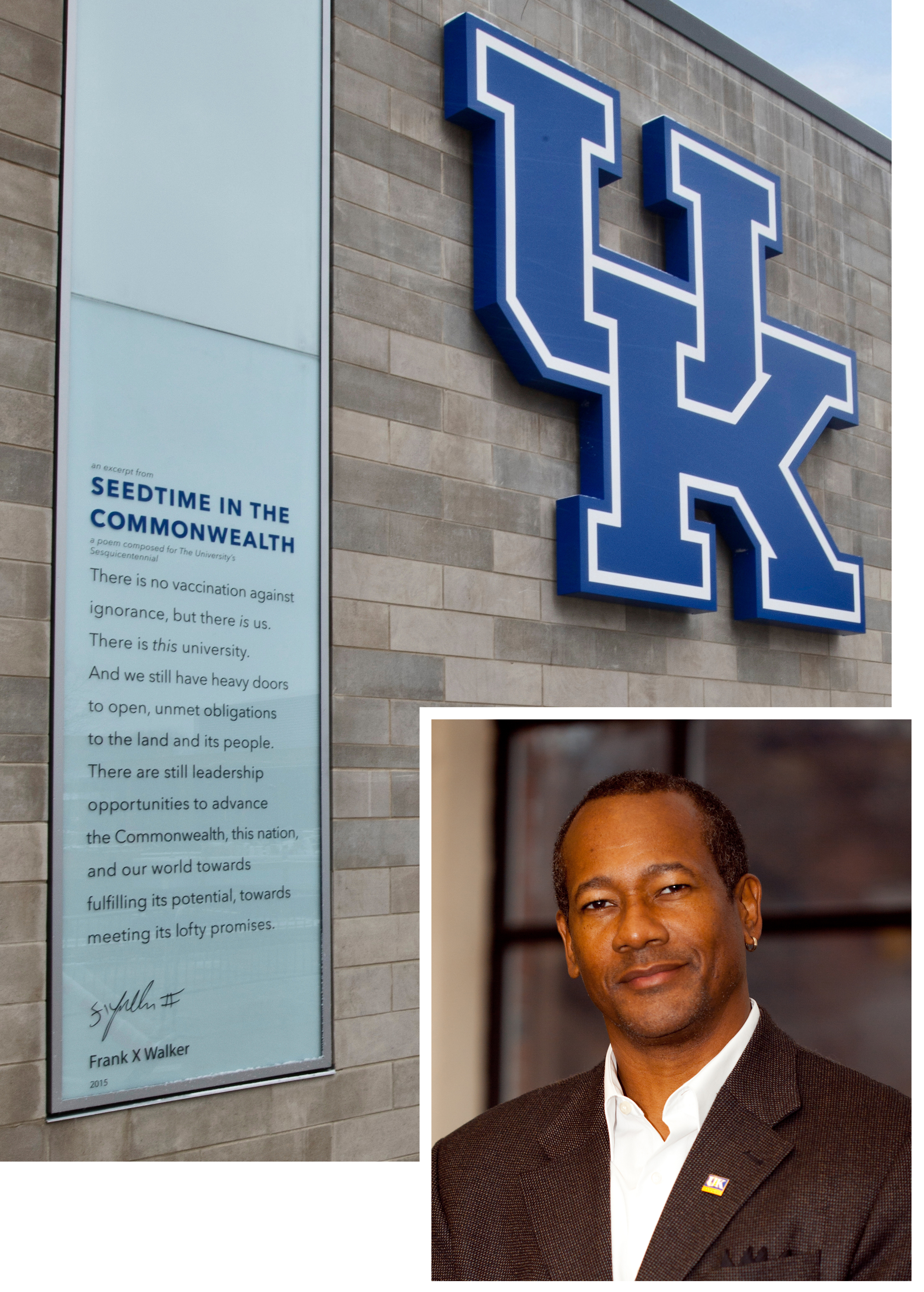 Frank X Walker Poem on New Student Center Wall
The highly anticipated new University of Kentucky Student Center, part of the $2.2 billion campus renewal and transformation, includes an excerpt from a poem that has special meaning to the UK campus. 
"There is no vaccination against ignorance, but there is us.
There is this university. And we still have heavy doors
to open, unmet obligations to the land and its people.
There are still leadership opportunities to advance
the Commonwealth, this nation, and our world towards 
fulfilling its potential, towards meeting its lofty promises." 
University of Kentucky English professor and former Kentucky Poet Laureate Frank X Walker penned these inspiring words in honor of the University's 150th anniversary in 2015. His poem, "Seedtime in the Commonwealth," acknowledges "our imperfect past, our opportunity to make ourselves 'right for the fight today,'" and the promise of this place to seize the "leadership opportunities to advance" those we serve toward their potential. The excerpt is inscribed in glass and is back-lit at night. 
To learn more about the importance of these words, read UK President Eli Capilouto's blog on the poem at as.uky.edu/our-shared-spaces.
Washington, D.C., Internship Expanded 
UK has expanded and enhanced its Washington, D.C., internship program now allowing students to:
Participate during the academic school year,
Utilize their financial aid, and
Remain a full-time student
The program is a partnership among the Department of Political Science, the College of Arts and Sciences, and the Office of the President, with the shared goal of providing an affordable opportunity for students to intern in the nation's capital without delaying their time to degree.
"One of our primary goals in our approach to this new program was to ensure students remain on track to graduate and have the necessary financial support to participate," said Tiffany Barnes, associate professor of political science and internship program director. 
The program began during the spring 2018 semester and had 13 interns, 11 of which were College of Arts & Sciences majors. 
"My Washington internship has by far been the highlight of my time as a student at the University of Kentucky," said Hayley Leach, a senior double majoring in political science and writing, rhetoric, and digital studies. "I was chosen as the Press Intern in Senator McConnell's office. Because of this, I have been fortunate enough to attend countless hearings, meet with Kentucky constituents, and work with Senator McConnell's press team. The opportunity to see our greatest legislative body at work has been the best possible experience as a political science major!"
Learn more at: polisci.as.uky.edu/uk-expands-dc-internship.
Truman Scholarship to Advance A&S Junior's Refugee and Immigration Policy Studies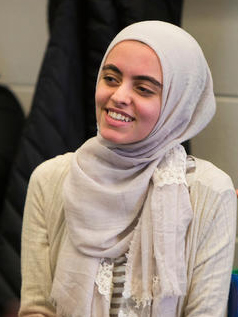 The University of Kentucky Office of Nationally Competitive Awards has announced that political science and Arabic and Islamic studies junior Hadeel Abdallah, of Lexington, has been named a 2018 Truman Scholar and will receive $30,000 to support her graduate study. Abdallah is the 14th UK student to receive the honor from the Harry S. Truman Scholarship Foundation.  
The Truman Scholarships are national awards presented to college juniors who demonstrate outstanding leadership and are devoted to careers in public service. Recipients of the award are required to work in public service at least three of the seven years following completion of their graduate program.
Abdallah's passion for public service began at a young age while translating for refugees and has continued as she has served in other capacities over time. "Having so much exposure to these extremely intelligent, resilient people, who have gone through so much has really inspired me," Abdallah said. "You know, if I have resources to help, why shouldn't I?"
Abdallah is also a recipient of a Robert and Anne Trunzo scholarship which will allow her to intern at the American Civil Liberties Union in New York this summer.
Read more about Abdallah and this prestigious scholarship at polisci.as.uky.edu/truman-scholar-abdallah.
A Passion for Science Earns A&S Biology Junior an Astronaut Scholarship, NIH Internship
A desire to become a physician-scientist has led University of Kentucky biology junior Joshua Preston to not only excel in the classroom and lab, but also garner one of the nation's most coveted STEM scholarships as well as entry into several undergraduate research programs during his college studies.
Preston is UK's most recent recipient of the Astronaut Scholarship from the Astronaut Scholarship Foundation (ASF). He is one of 45 recipients of the prestigious $10,000 scholarship, which is presented annually to outstanding college students majoring in science, technology, engineering or math (STEM). Candidates must be nominated by faculty of the participating universities based on their display of initiative, creativity and excellence in their chosen field.
In addition to his Astronaut Scholarship, Preston was also one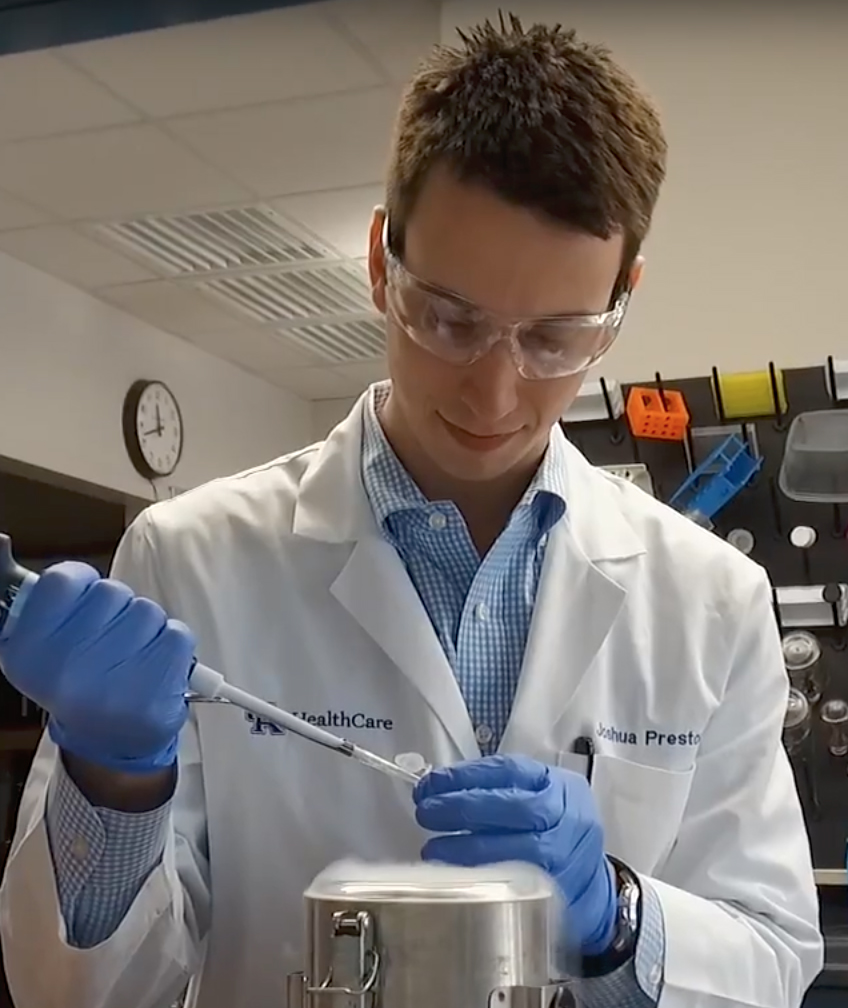 of 1,350 interns out of a pool of more than 7,500 selected for the National Institutes of Health Summer Internship Program in Biomedical Research in 2017. As an intern, Preston spent last summer working at the NIH's National Institute on Aging (NIA) side-by-side with some of the leading scientists in the world, in an environment devoted exclusively to biomedical research.
"This fellowship helped me develop my skills as a researcher and allowed me to experience the intensity of NIH research. It also helped me broaden my horizons to research in the field of translational gerontology and helped me network with other scientists outside of UK," Preston said. "Lastly, this experience set me on a trajectory towards becoming a physician-scientist."
This July, Preston will give a presentation on his NIH and NIA work at the 14th International Symposium on Neurobiology and Neuroendocrinology of Aging in Bregenz, Austria.