By Richard LeComte
LEXINGTON, KY – The U.S. Air Force sent these two University of Kentucky grads around the nation and the world, and now they're back in Lexington. Cadets in UK's Air Force ROTC Detachment 290 are getting the benefit of these alumni's experience.
Maj. Lindsey Phillabaum (bottom photo) and Capt. Nichole Nicholson (top photo) are assistant aerospace professors in Aerospace Studies, part of UK's College of Arts & Sciences, and they're delighted to have returned. Phillabaum has been at UK for two years, and N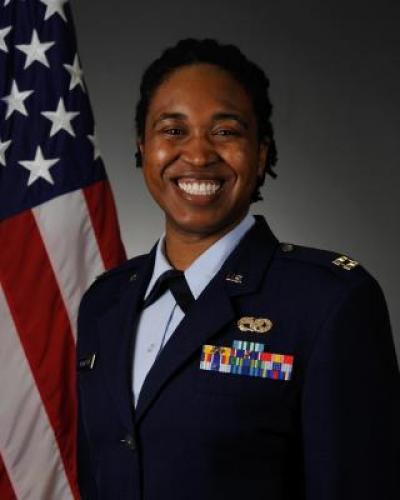 icholson started in July.
Before coming to UK, Nicholson was stationed at Ramstein Air Base in Germany, where she was a leader in logistics. Before that, she was stationed in Korea and Alaska. She appreciated her experience at UK so much that she decided to come back.
"When I was going through AFROTC, I absolutely loved the program and I loved the school," Nicholson said. "Even then I wanted to come back. As I went through my career, an opportunity came up last year for me to apply to come back to the program. So I put my application in, and my boss while I was in Germany approved the application, and I had an interview with the commander here. I was selected for my first choice."
Both Phillabaum and Nicholson were Psychology majors; Phillabaum graduated in 2006, and Nicholson in 2014. Phillabaum has been an Active Duty Air Force officer as well as Air Force Reserves and Air National Guard. She recently came from the Portland Air National Guard base in Oregon to become an Air Force ROTC Instructor. She had family ties to the Air Force, which led her into the AFROTC.
"My grandfather was in the Air Force, but for me I kind of fell into ROTC as a cadet," said Phillabaum, who originally is from southern Ohio. "I needed a couple of credit hours when I was a freshman, so I decided to try out ROTC. My grandpa really wanting me to join the military, so I took the classes and absolutely loved it. I ended up getting a scholarship my sophomore year for ROTC and the rest is history."
Nicholson's father was career National Guard and a UK alum to boot.
"My dad did the Army ROTC program here in the '80s, so he said to take the class," said Nicholson, who's from Michigan. "So I said OK, I'll check it out."
Nicholson and Phillabaum take pride in introducing students to the Air Force through the classes they teach.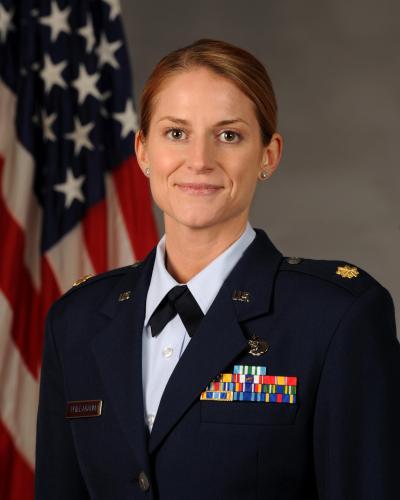 "Generally Aerospace Studies will cover Air Force history, customs and courtesies of the Air Force, how to wear the uniform, leadership, followership, effective communication," Nicholson said. "It goes all the way up to strategy, which Major Philabaum teaches."
"We also teach them how to prepare for active duty, when they become Second Lieutenants in the Air Force," Phillabaum said.
At UK, they see a wide range of students with varying motivations, including students from nearby colleges taking ROTC on campus.
"We get all sorts of people," Nicholson said. "We get people who are hard-charging and want to be a pilot. That's all they ever wanted to be, so they're asking what they can do to become a pilot. Then we get people who know nothing about the military and see Air Force ROTC and say, 'Hey, I'll try that out.'"
And as Phillabaum says, the Air Force involves a great deal more besides flying airplanes. For example, she has a master's in food service and institutional management from Kent State, and she's done a lot of work in Personnel within the service.
"A lot of people associate the Air Force with just pilots, but there are so many other career fields to go into," Phillabaum said. "Most of our cadets do not become pilots in the Air Force."
Whatever their majors or their career plans, ROTC students get a big dose of leadership training, which they find helpful in the rest of their studies.
"They get a lot of leadership opportunities in ROTC," Phillabaum said. "There is so much growth in individuals from the time they come into the program until they are seniors that has gone on in our classes. They feel more confident in themselves, and they can speak in public a lot more eloquently. What I hear the most is that they love the leadership opportunities they get in ROTC."
Nicholson's UK studies in both ROTC and psychology created a clear career path that she has followed in the Air Force.
"I had known for a while that I wanted to study psychology," Nicholson said. "What really united my undergrad time and my ROTC time was a course I took in my senior year in which we did human ergonomics. Learning about that along with the add-in of the leadership training I got in ROTC, I became interested in industrial organization and psychology as well as leadership psychology. Having both experiences led me to get a master's in organizational psychology. It started here at UK."
Phillabaum and Nicholson are too busy to check out some of their old hangouts, although both seem to have fond memories of the local Tolly Ho restaurant. They also note the campus has changed a lot since they were here.
"It's changed a lot, more so for me, since I graduated in 2006," Phillabaum said. "We were both in Blanding Tower and the low-rise, and they're gone now."