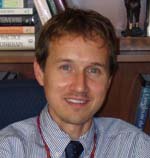 Was it destiny or some predisposition that led John Yozwiak to the University of Kentucky College of Arts and Sciences? Or maybe it simply was a matter of finding a great opportunity.
Yozwiak, whose grandfather was the dean of the College of Arts and Sciences at Youngstown State University, was born in Binghamton, N.Y., but found himself relocated with his family to Lexington, Ky., when he was six.
Upon graduating from Lexington Catholic High School in 1990, Yozwiak, who comes from a long line of college graduates, knew that college was certainly the next step. He used his experiences from visiting friends at UK as well as his desire to stay close to home in choosing his collegiate destination.
"My family has always valued education. Therefore, attending college was very important to me," Yozwiak said. "In part, I decided to attend the University of Kentucky because of the experiences my older friends were having there. Visiting them in their dorms when I was a senior in high school first exposed me to the variety of social opportunities available to students at UK, and talking with them about their experiences in the classroom revealed to me the rigor of their education. Attending the University of Kentucky also allowed me to not only stay close to my family, but also afforded me the opportunity to acquire an exceptional education on the beautiful Lexington campus."
Once at UK, Yozwiak took advantage of all that the college offered. He graduated with a bachelor of arts in psychology in 1995 and was awarded a Ph.D. in clinical psychology in 2003. While a member of Lambda Chi Alpha fraternity, Yozwiak was able to expand his social network while learning to balance his education with social and community activities. And he balanced it well, earning places in Psi Chi (the national honor society in psychology) and the Golden Key National Honor Society.
However, one of the greatest benefits his college experience afforded him was the College of Arts and Sciences.
"The diversity of educational opportunities offered in the college was a significant benefit," Yozwiak said. "I believe that the required courses (e.g., science, history, foreign language classes, etc.) provided me with a solid educational foundation before I began to take courses in my major. Paging through the schedule of classes each semester, I often was very excited about the variety of interesting courses available in the college. The academic advising that I received in the Department of Psychology was exceptional, and my undergraduate and graduate school adviser provided invaluable academic and career advice."
Yozwiak named Dr. Charles Carlson and Dr. Jonathan Golding as two of the many key individuals who helped him throughout his years at UK. Yozwiak said that Dr. Carlson and Dr. Golding helped him clarify his career path and provided timely advice regarding the steps he needed to take to reach his goals.
Now a staff psychologist in the Department of Medicine at the University of Minnesota Medical School, Yozwiak is more than satisfied with his decision to attend UK and study in the College of Arts and Sciences, a decision he will never regret.
"The diversity of experiences that I had as a student in the College of Arts and Sciences, both inside and outside the classroom, provided me with a solid, well-rounded educational foundation," Yozwiak said. "This foundation helped prepare me for the more specialized training that I received in graduate school and during my internship and postdoctoral fellowship. The problem-solving and critical thinking skills that I learned in the college have been fundamental to me in my career as a clinical psychologist. My education in the college instilled in me a value for education and a lifelong commitment to learning. I am very proud that I am a UK graduate and I would highly recommend the College of Arts and Sciences to prospective students!"