Andrew Bozio first got hooked on British literature as a junior at Louisville's St. Xavier High School. He knew then and there he'd found his calling.
Having just finished his first year of studies in the English PhD program at the University of Michigan, Bozio credits his undergraduate experiences at UK with helping establish a foundation for his intended career in early modern literature.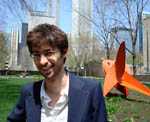 A Gaines Fellow and member of the UK Honors Program, Bozio graduated from UK in December 2006 with a degree in English and minors in French and philosophy. His classes in Arts & Sciences, the Honors Program, and the Gaines Center for the Humanities program "absolutely" prepared him for his graduate level coursework, he says.
It was the combination of those three things, the skills that one program offered, another program was able to supplement and help develop," he says.
Bozio's Gaines Thesis, under the advising of UK English professor Jennifer Lewin, looked at anti-theatrical treatises published in England between 1577 and 1582, roughly the time that playhouses like the Globe and the Curtain were being established. His work aimed to "figure out precisely what the anti-theatricalists thought were going on at the playhouses," he says.
Now at the University of Michigan, Bozio remains interested in issues of theatricality in early modern literature—particularly how the space of the playhouse "affects the person's body when they're acting or watching a play" and how plays disseminate a kind of ideology that the audience either accepts or resists.
Bozio's graduate work has been informed and enriched by his varied UK undergraduate experiences, which included an opportunity to study abroad at the University of Lancaster in England during his sophomore year—a placement coordinated through UK's Study Abroad Office. Bozio also took part in a study-tour of China sponsored by UK's Asia Center, spending the spring of 2005 studying the culture and history of China with Kristin Stapleton before traveling there in May.
Within the English Department, Bozio worked most closely withLewin, whose mentoring encompassed both his Gaines research and an independent study course. Bozio's double minor allowed him to benefit from coursework with philosophy professor Ronald Bruzina, who guided his independent study of Derrida and led a memorable course on phenomenology. Lessons learned through Brandon Look's philosophy course on Kant's Critique of Pure Reason remain with Bozio "to this day," he says. And Suzanne Pucci in the French Department led influential classes on French literature and eighteenth-century French drama.
After completing his degree at Michigan, Bozio plans to make good on the career path he carved for himself in high school: teaching and researching in early modern literature. It's a future he's looking forward to.
by Robin Roenker