Alumni Spotlight - Ben Williams

by Matthew Patton
There's more than 4,300 miles separating Morehead, KY and Berlin, Germany. For Ben Williams, it was a gap that would be bridged thanks, in part, to his experiences at the University of Kentucky.
Hailing from Morehead, Williams graduated from Rowan County Senior High. From there, he went to the University of Kentucky, followed by a graduate degree from the Elliott School of International Affairs at The George Washington University. His parents still live in Morehead, where his mother works in the Fuzzy Duck Coffee Shop and his father as a professor at Morehead State. His two sisters live in Lexington.
Inspiration
When studying at UK, he was inspired by two professors: Theodore Fiedler and Jeff Rodgers. The former because he challenged Williams while "also improving me (a more difficult combination than it might seem, especially considering the almost Sisyphean task that bettering this particular subject certainly was)," the latter because he taught Williams about literature he really wanted to read.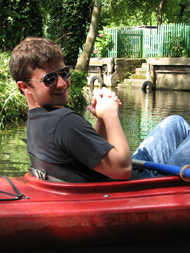 "I liked my courses, and the conversation they initiated both in and out of class. I used to like to sit and eat breakfast on the steps of the classroom building next to the Patterson Office Tower, coffee and the ample roof guarding against nasty turns in the weather," Williams reminisced. "I liked WRFL and all that is associated with it. Without doubt what I value the most is that while there I also met people whom I'll never cease to consider friends."
Learning a Language
Williams explained his foray into the German language. "I took a trip to Prague when I was 18. I noticed that I was one of the only people on the street obliged to list their spoken language(s) in the singular. Because of this, I decided I wanted to learn at least one language inside out," Williams explained.
"I chose German because I was also interested in liberal arts, but could not decide between literature, philosophy or history. I figured, if I learned German I could expand my languages to two, and not limit myself to one liberal art, so to speak, but study many of them within a language whose rich cultural heritage left little wanting in any single one. Plus, I thought I might be able to meet a German girl."
And meet a German girl he did: his future wife Lisa. They met in Berlin at a party on a boat on the Spree River. They currently reside in Washington, D.C. When he was living in Berlin in 2008, he was dissatisfied with job prospects. He moved back to the United States in December 2008. A journalist friend in Washington sent him a job description for a media analyst at the German Embassy in late February 2009. He applied, and started the next month. Additionally, he writes for germany.info in three areas: economics, sports and occasional reviews of German pop bands.
Looking Ahead
He admits that "getting a B.A. in something like German, studying literature, dabbling in philosophy (his minor) or soaking up these and other culturing endeavors on your own" won't likely result in salivating employers beating down your door. 
"But they make you a better person," he asserted. "More directly, learning German prepared me to study international affairs and allowed me to first study abroad and later live in Berlin for two years without being cut out of the cultural nuances of one of the world's great cities through language ignorance."  
Now Williams says he wants to transition into web publishing, radio and/or journalism.
"Deejaying at WRFL, making my own magazine while at UK and what I learned in German all contributed to nurturing that possibility."
Matthew T. Patton, '99, is a medical trade magazine editor and freelance writer based in Atlanta.