Writing it Down

A&S linguists are working to save a language on the verge of extinction.
By Jennifer T. Allen
photos by Tim Collins
In the Pamir Mountains of eastern Tajikistan, a language is spoken – not written, not taught in schools – simply spoken. With merely 60,000 speakers in Tajikistan and Afganistan, the Shughni language is at risk of extinction. Linguistics professors in the College of Arts & Sciences are working to make sure that doesn't happen.
"Language is part of our culture and if you lose the language, you lose part of yourself. You lose your identity," said GulnoroMirzovafoeva, who teaches English grammar, lexicology and discourse analysis at Khorog State University in Tajikistan.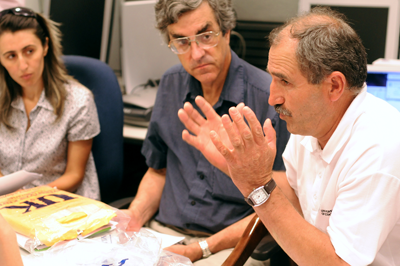 Mirzovafoeva and two other Shughni scholars traveled to Lexington to collaborate with UK professors in hopes of creating a comprehensive grammar of the Shughni language.
"Shughni is passed down orally in families," said Greg Stump, director of UK's linguistics program and member of the International Studies Program Advisory Committee. "It has been very intriguing to work with a language that is only spoken."
Tajik is the official language of Tajikistan and most of the population also speaks Russian. "I mix Russian words with Shughni and realize it more now that I've been here. If we continue like this, the language will be lost," Mirzovafoeva said.
Shughni is an Indo-European language; that is, it is presumed to descend from the prehistoric Proto-Indo-European language that historical linguists have hypothesized to account for the observable similarities in vocabulary between various languages of Europe and Asia, Stump said. "There are words in Shughni that are very close to English."
Throughout the month of July, the Shughni scholars met withfaculty and students in UK's Linguistics Program to begin the process of analyzing the language.
"I didn't know this project would be as exciting as it is,"Mirzovafoeva said. "I always just spoke the Shughni language and never thought much about it. Coming here, I realized things such as we have a perfect tense and it has caused me to analyze the language more."
The goal of the summer workshop is to begin creating a written grammar of the Shughni language to help with its documentation and preservation. "We would ultimately like to see the Shughni language included as part of the education of children in the mountain areas of eastern Tajikistan. It is an extremely rich language and we want to see it preserved," Stump said.
Using the international phonetic alphabet, the scholars have begun to record the language in a way that linguists around the worldcan understand, said Jeanmarie Rouhier-Willoughby, a professor of Russian in the Department of Modern and Classical Languages, Literatures, and Cultures.
The group of scholars worked through aspects of Shughni grammar in carefully planned meetings, using video and audio recordings and transcription in order to create a permanent digital record of their investigations. "But often, the real insights came when we stumbled upon something," said Andrew Hippisley, a linguistics professor in the English Department.
James Mastin, an undergraduate linguistics major, volunteered to help record and transcribe the meetings. "I have not seen linguistics in action and this was an excellent opportunity to see what linguistics is and what it can do," he said. "It's like a bigRubik's cube and it's amazing to get to see the pieces start to come together."
The team is currently working on articles about their analysis of Shughni and have begun presenting their work at professional conferences. They expect to have the grammar book completed within five to 10 years, Stump said. In order to continue their collaboration with the Shughni scholars, UK's linguists are now making plans for a research visit to Khorog State University.
"Linguistics lives and dies by collaboration," Hippisley said. "If people don't work in teams and collaborate, this sort of researchwouldn't be possible."
UK's linguists realize how important documenting the Shughni language has become and how it extends beyond just the language.
"All languages are extremely interesting.  Each one gives us new and precious insights into properties of the human mind.  And each one provides a very clear picture of its speakers' culture," Stump said. "We are not just studying the Shughni language, but also the Shughni people and Shughni culture in a part of the world that haslong been quite inaccessible."  
As Mirzovafoeva leaves UK and heads back to Tajikistan, she knows the team at UK has begun the important process of helping preserve a language on the path to extinction. "If Shughni is a small detail in a larger construction, if it is lost, the whole tower will collapse," she said. "If Shughni is lost, all of the world's languages will lose something."
And that is exactly what UK's professors are working to prevent.
Photos: Front page - Linguistics professor Andrew Hippisley
Inside Top from left - Gulnoro Mirzovafoeva, Greg Stump, Muqbilsho Alamshoev
Inside Bottom - Gulnoro Mirzovafoeva