by Whitney Hale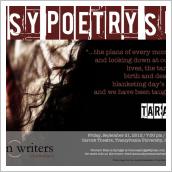 As part of the Kentucky Women Writers Conference, the seventh Gypsy Poetry Slam returns to Lexington featuring celebrity judge and celebrated poet Tara Betts and hosted by popular local Affrilachian poet Bianca Spriggs. The slam is one several free public evening events celebrating the literary arts presented as part of the 2012 conference.
This year's Gypsy Poetry Slam will feature its largest group of competitors, 11 national and local poets. Winner of the slam will be presented with the Faith A. Smith Poetry Prize, established by Kentucky and Affrilachian poet Frank X Walker in memory of his mother. The Smith Poetry Prize carries a $500 cash award to the winner of the Gypsy Poetry Slam and a $300 award to the runner-up. The Gypsy Poetry Slam is scheduled for 7-9 p.m. Friday, Sept. 21, at Transylvania University's Carrick Theatre, located at 300 N. Broadway.
Writer and poet Tara Betts is the author of the book "Arc and Hue" and was a lecturer in creative writing at Rutgers University in New Brunswick, N.J. The Cave Canem Fellow's poetry and prose has appeared in various journals and anthologies.
Betts encourages literacy and works with arts programs including GirlSpeak, a weekly writing/leadership workshop for young women. She has appeared on HBO's "Def Poetry Jam" and in the Black Family Channel series "SPOKEN" with Jessica Care Moore. Betts has also been one of the writers/performers in girlstory-an intergenerational, multicultural women's performance collective. After winning the Guild Complex's Gwendolyn Brooks Open Mic Award, Betts represented Chicago twice at the National Poetry Slam. In 2010, Essence Magazine named her as one of their "40 Favorite Poets."
In addition to the slam, Betts will also present the poetry workshop "Blessed Be the Truth-Tellers" for Kentucky Women Writers Conference registrants Sept. 21-22.
To see a full schedule of conference daytime sessions or to register for the conference, visit www.uky.edu/WWK.
The evening before the slam, the Kentucky Women Writers Conference will present a free public talk by hip hop journalist, cultural critic, and filmmaker dream hampton at this year's Sonia Sanchez Keynote Lecture. Hampton will discuss women's place in hip hop in her lecture "The Shadow History of Women in Hip Hop Beginning with the Black Panther Party" beginning at 7 p.m. Thursday, Sept. 20, at the Lyric Theatre. A warm-up act will begin at 6:30 p.m. featuring DJ Miss Erin Smith and local rappers Samirah Hall and TSmilez.
Hampton has written about music, culture and politics for 20 years. Her articles and essays have appeared in The Village Voice, The Detroit News, Harper's Bazaar, Essence and a dozen anthologies most recently "Born to Use Mics: Reading Nas's Illmatic," edited by Michael Eric Dyson. She was an editor at The Source in the early 90's and a contributing writer at Vibe for its first 15 years. She co-authored the unreleased "Black Book" with Shawn Jay-Z Carter and collaborated with him on "Decoded." She's co-authoring Kamal "Q Tip" Fareed's memoir, "Industry Rules."

As the conference comes to a close, another free public event will showcase writers featured on WUKY's radio show "Accents." Writers Rebecca Gayle Howell, Tori Murden McClure and Nancy Jensen will present readings as part of "Stars with Accents" beginning at 7 p.m. Sunday, Sept. 23, at the Carnegie Center for Literacy and Learning. The readings will be followed by a question and answer session led by Julie Wrinn, director of the Kentucky Women Writers Conference.
Howell is a poet, translator, and documentarian. She is the recipient of a poetry fellowship from the Fine Arts Work Center in Provincetown, the Jules Chametzky Prize in Literary Translation, and long-term support from the Kentucky Foundation for Women. Her forthcoming collection, "Render / An Apocalypse" was selected by Nick Flynn for the CSU Poetry Center's First Book Prize; it will be released in the spring of 2013.
Many readers and listeners will remember McClure as the first woman to row across the Atlantic. In addition, she is currently the president of Spaulding University and author of the memoir "Pearl in the Storm."
Jensen's novel "The Sisters" was selected by the Independent Booksellers Association as the "#1 Indie Next Pick" for December 2011 and included on Kirkus Reviews' list for best fiction of 2011. She has been awarded an Artist Enrichment Grant from the Kentucky Foundation for Women and an Al Smith Fellowship from the Kentucky Arts Council. Her first book, "Window: Stories and Essays," was published by Fleur-de-Lis Press in 2009.
The Kentucky Women Writers Conference is the longest running conference of its kind in the nation. A literary festival, the event's continuing purpose remains promoting imaginative conversation and lifting up women's artistry for the benefit of all. The annual event is made possible in part by its presenting sponsor, University of Kentucky, and continued community partnerships.
For more information on any of these free Kentucky Women Writers Conference events, contact Julie Wrinn, conference director, at (859) 257-2874.