By Erin Holaday Ziegler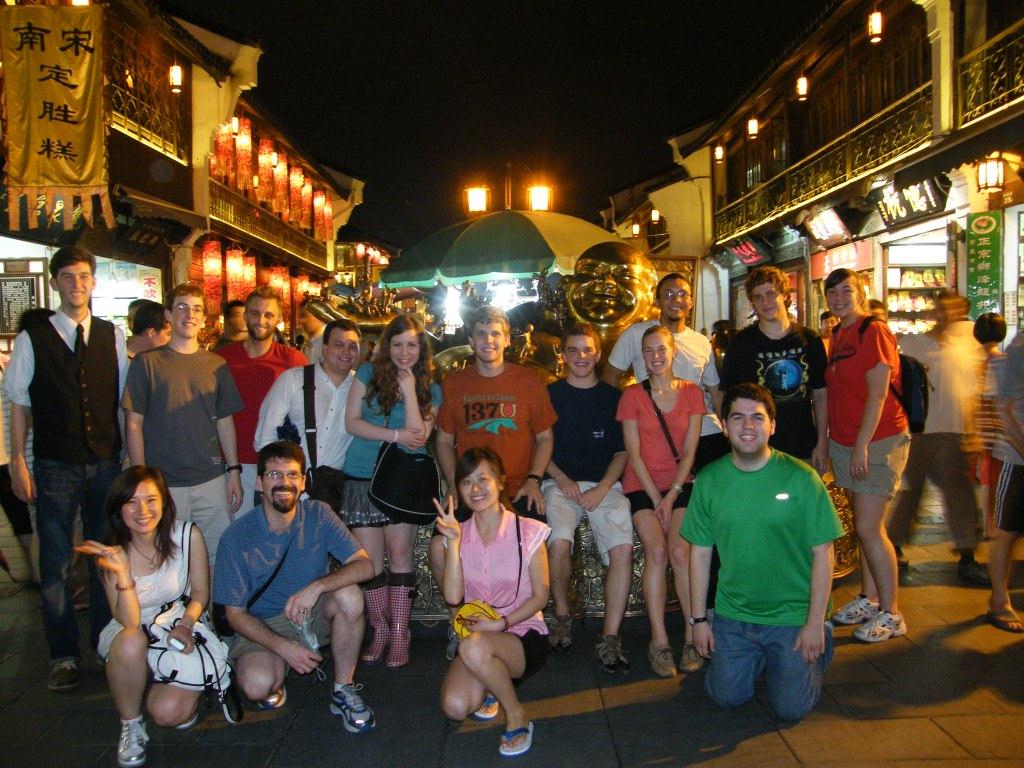 The University of Kentucky's College of Arts & Sciences continues to expand its language offerings this year, as the UK Board of Trustees approved a Chinese studies major in early fall 2011 on the heels of Japan studies last year.
"We've gotten a lot of positive student response," said Matt Wells, professor of Chinese and director of Undergraduate Studies for the new major. "The program offers four years of Chinese language, study abroad opportunities and an interdisciplinary curriculum covering modern and pre-modern Chinese culture."
A major couldn't come too soon, as the number of students studying Chinese has experienced 20-30 annual growth, according to Wells. "We have more students in our 101 classes now than there were in 101, 201 and 301 combined last year," he said.
Studying Chinese is a "no-brainer" for students, Wells explained. "Given the global economy and rising status of China as a world power, it's imperative that American college graduates and young professionals have experience with Chinese language and culture," he said. "We need to do more than just train our Department of State and military members."
"There are multiple layers in learning Chinese," Wells said. "You must say the culturally appropriate thing," not simply translate what you want to say from English. "No translator can make a possible business partner or employer comfortable," he explained, because what is going on behind the scenes during a meeting can be just as important as the conversation you are having with the translator.
Wells wants students to learn the language and culture and then to apply these skills to a profession. "Don't learn a language for the sake of language," Wells said. "You need to learn the language as a tool for access."
The goal of UK's Chinese studies program is to provide the foundation for students with a wide variety of interests, from analyzing China's one-child policy, to studying early Chinese philosophy by reading original works.
Junior Clint Parker, a linguistics and Chinese studies major, is currently translating a Chinese-written Sarikoli language manual into English.
Sarikoli, an ancient Pamir language found in remote parts of Western China, is one of 80-100 languages found in China.
"This might be one of the first English translations of Sarikoli into English," Parker said. "The project really combines my interests in linguistics and Chinese."
In translating the Sarikoli work, Parker has delved into China's mid-20th century political and cultural transformation as well; during this era, Communist leaders began to standardize and simplify the Chinese language and developed a Latin writing system.
"It's become a bigger project than I thought because of all of the social and political components with the Sarikoli language and Chinese culture," said Parker, who would not have had the opportunity for such specialized research without the aid of faculty like Wells. Click here to listen to a podcast interview with Parker about his project.
"The major is really flexible," Parker said. "You can tailor your studies to your interests. I am involved with linguistics, but I have friends focused on business, history and literature that are all participating in Chinese studies."
Education abroad is pivotal for Chinese studies majors, according to Wells, who lived abroad in China for several years while at the University of Oregon to pursue a master's and later a doctorate in early Chinese literature.
"Chinese is different," he explained. "Sitting in class is one thing. Study abroad is imperative to learning a language and culture." Although this is true of any language, Wells said, it is incredibly important for strategic languages like Chinese, Russian, and Arabic, which present different obstacles for students.
Parker plans to study in Xinjiang University in Urumqi for a year beginning next fall.
With four dedicated faculty in modern and classical languages, a historian of modern China in the history department and several affiliated faculty across campus, Wells is looking to grow the major and minor exponentially in the coming years.
Programs offered by the College of Arts & Sciences Year of China, UK's ArtsAsia Festival and the Confucius Institute expose new audiences to Chinese culture daily. Furthermore, the Confucius Institute's work in elementary and high schools will equip Kentucky's high school graduates with Chinese experience.
Students are not able to officially declare a major in Chinese studies until spring 2012, but those interested in a Chinese course of study can discuss future options with their advisers.
"Studying Chinese will really set a student apart from other graduates, and overall the language creates more opportunities," Parker said.
For more information or questions about the major, contact Wells at matt.wells@uky.edu.