Patrick Murphy Conlon
Linguistics and Political Science Senior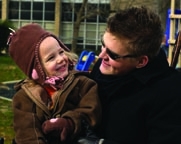 A native of Cincinnati and a graduate of Tates Creek High School, Patrick Conlon liked the idea of going to college, but he and his family were unsure of his prospects.
Conlon wasn't concerned about grades or entrance exams. He needed to find a school that had the appropriate accommodations and services for disabled students. And he found that in the University of Kentucky.
"I was not the first in my family to attend college, but there was a worry before I started at UK that college would not be possible for me personally because of debilitating illness," Conlon said. "As this is my fourth year at the university, it is pretty safe to say that I have survived."
What also attracted Conlon to UK and helped him survive was the wide range of course offerings available. His interest in a variety of academic areas and the possibilities provided by the College of Arts and Sciences were crucial to his ongoing growth.
"I found that being in an academically supportive environment was probably the most beneficial thing about being here," Conlon said. "You cannot really be ostracized by others for being academically gifted or wanting an intellectual challenge as there are so many diverse groups of people on the campus."
Conlon said that he "just dove in head first" when he arrived on campus and took a sample of the many different courses UK had to offer in order to find out what fit him and his interests. What this double-major in linguistics and political science also found was an expanded worldview.
In his less than four years of college in Lexington, Conlon has studied abroad three times: once in Shanghai, China (spring 2005); once in Le Havre, France (2005-06 academic year); and once in St. Petersburg, Russia (spring 2007). Because he enjoyed the experiences so much, Conlon is planning to study in Dalian, China, this coming spring.
On campus and across the world, UK and the College of Arts and Sciences have provided Conlon with the tools and opportunities to grow.
"Amazingly, I found that my whole worldview underwent a drastic transformation within my first two years at college as a result of experiences on UK's campus and overseas," Conlon said. "I learned to see the world from the perspective of a different culture and how to mediate possible points of contention between the two."
Whether tutoring students in foreign languages, volunteering in the UK Early Childhood Lab, or studying in Lexington or another country, Conlon is convinced that UK and A&S were for him.
"I have had many very attentive and knowledgeable professors while at UK, and I have also gotten to know many members of the university staff very well," Conlon said. "Of all those, the staff in the Education Abroad department has really gone out of its way time and time again to be accommodating and helpful in any way possible. I think that the College of Arts and Sciences has been absolutely instrumental in shaping the course of my life. I do not think that I am the same person now as I was four years ago."