Ph.D. Student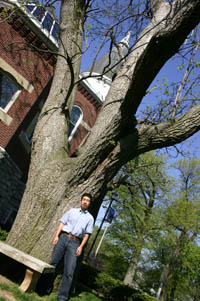 Whether it has been in the fields of Guatemala, the rural landscape of Kentucky, or as a government official in Japan, Kiyo Sakamoto's interest in the social aspects of agriculture has been the one constant that has propelled his work over the past 15 years.
After receiving his Bachelor of Science in Agriculture from Chiba University in his homeland of Japan, Sakamoto then worked with the Japan Overseas Cooperation Volunteers – a group "which is similar to the U.S. Peace Corps," he said.
That landed him in Guatemala where he worked on agricultural recommendations and management issues for fruit cultivation in the developing Central American economy.
When he returned home two and a half years later, he took a position in the Japanese government  as a technical officer in the Ministry of Agriculture, Forestry and Fishery Division.
When it was time to further his education, the University of Kentucky was in the mix, and quickly went to the top when he met with, then Sociology Director of Graduate Studies, Larry Burmeister. "He was just very nice to me from the start. He helped me so much with my Master's thesis and helping decide what courses to take, because his interests are very similar to mine," Sakamoto said.
Burmeister is partially interested in the agricultural restructuring processes and policy changes in Eastern Asia – Sakamoto had been working for the Japanese Ministry of Agriculture for a few years. It's a natural pairing that has continued to flourish, as the two, along with sociology graduate student Yong-Ju Choi, combined for a journal article titled "Framing Multifunctionality: Agricultural Policy Paradigm Change in South Korea and Japan?"
After receiving his Maters of Arts in Sociology from UK, Sakamoto returned home to continue his government work in Japan.
The decision to return to Lexington for doctorate work was not difficult according to Sakamoto. "Professor Keiko Tanaka invited me to work for her on her project on food safety governance and wanted someone who spoke and wrote Japanese. Plus, it is something that I was interested in as well." Their collaborative paper "The response to BSE issues in America: Examining internationalizing food risk from a perspective of comparative sociology" was published in Japan in 2006.
Most recently, Sakamoto recieved a grant for more than $4,500 from the Matsushita International Foundation for his dissertation research.
Sakamoto has relished the diverse opportunities he's had in A&S during his Maters and Ph.D. programs. He cited numerous geography, anthropology, English and social theory classes that have advanced his sense of rural America – especially Kentucky's changing dynamics. 
"I'm interested in social aspects of production and consumption. Rural areas seem to be left behind in the United States and Japan because of mainstream agriculture or globalization of agriculture, which tends to marginalize people in rural areas," Sakamoto said.
His outside classes helped him gain a full understanding of the changes that Kentucky faced – with smaller, family farms suffering and the adapting that tobacco farms have were challenged with. In turn, he's helped numerous colleagues understand similar agricultural issues in Japan.
No matter what continent, country or town Sakamoto ends up in next, he'll be entering a community that he's going to make a difference in.