Jami Bartek
Ph.D. Student
by Robin Roenker
Jami Bartek's historical curiosity isn't limited to one country or even one continent, and he's loved that his time as a PhD student in UK's History Department has allowed him to pursue interests in an array of settings and eras.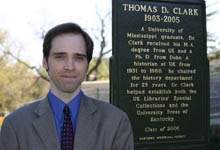 When Bartek enters the job market next fall, he'll go armed with a focus in the 19th-century U.S. South, but also with experience in his two teaching fields: 20th-century European history and East Asian studies.
His varied coursework provided him "a much broader background" and a richer, more comprehensive historical sensibility, said Bartek, a native of Elsworth, Ohio, and graduate of Youngstown State University. "I enjoyed it. Instead of having just this narrow focus on the U.S. South, it allows you a broader focus, and you see more trends. You begin to see that regardless of culture, and language, and whatever else, human nature remains the same" across time and space.
Awarded a prestigious dissertation year fellowship from UK's Graduate School for 2008-2009, Bartek will be able to devote full attention to finalizing his dissertation in the coming months. His research focuses on the interactions of race and war in the U.S. Civil War era.
UK history professors Mark Summers and Karen Petrone encouraged Bartek to apply for the fellowship. And Bartek says Summers's help, in particular, to his dissertation work has been "incalculable."
"As a historian, he's been first rate, and even more in general just as an editor," Bartek said. "If something's wrong, or there's not enough evidence, he'll just tear you up. He'll make you work."
It was the opportunity to work with Summers that lured Bartek to UK's graduate program in the first place—that and the attractiveness of the Teaching Assistantship package UK History Department offered him.
Early on in his graduate career, Bartek signed on for independent study with Summers. He made up his own reading list, then the two would meet every other week to discuss what Bartek had learned. He expected rigor from Summers, and he wasn't let down.
"It was pretty intimidating," Bartek joked. "When you're talking to Mark Summers, you pretty much talk to your level of incompetence. You talk until you can't say anything anymore, or you're wrong. And then he takes over from there. He doesn't let you slip on anything."
When it came time to settle on a dissertation topic, Summers encouraged Bartek to broaden his research focus to address not only the central role that black-white race relations played in the Civil War South, but also other race issues playing out in the American peripheries.
"He encouraged me to make it more all-encompassing," Bartek said. It was a nudge that made Bartek's research all the more cutting-edge. "Not too many people have looked into what I'm doing."
Specifically, Bartek's dissertation analyzes "the role of race in how wars are waged." His work will compare, for example, how white non-combatants in Georgia are treated by Sherman's Union Army to the ways white soldiers treated various Indian tribes and people of Mexican heritage in the 1860s American West. Naturally, it will also address the treatment of African Americans during the Civil War—particularly in their interactions with Confederate soldiers, he explained.
"The black aspect is the most obvious, but you have so many races and cultures going on, you can put things into a better perspective if you include more of that," he said.
Bartek credits his time in UK's History Department with giving him the diverse exposure and training he'll need to launch a successful research and teaching career.