Dustin Zerrer
Undergraduate Student
A Whole New Ballgame
Like countless other youngsters, Dustin Zerrer wanted to be a baseball player when he grew up. He even earned a scholarship to play in college, but after injuries derailed his career, he found himself at Eastern Kentucky University as a turf management/sports management major. He eventually worked for minor league organizations like the Lexington Legends and Dayton Dragons as an assistant groundskeeper.
Then he called for a timeout, stepped out of the batter's box and reassessed his life. He wanted to take a different direction.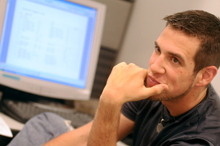 He knew education was the key. His first go around in college he admitted to being a below-average student that had poor work habits. So, he enrolled at Bluegrass Community and Technical College (Lexington Community College at the time) to rededicate himself to academics.
He did exactly that. "I changed my whole outlook on classes and studying. I've grown up and buckled down because I still work full-time and go to school full-time," Zerrer said with pride - a 3.4 GPA in tow, and an upcoming date with graduation this May. He is also co-recipient of the 2008-09 Undergraduate Linguistics Research Award.
When deciding on exactly what path his new academic career would take, Zerrer let his long-time interests guide him. "I've always had a fascination with different languages and different cultures, different ideas, different philosophies and different ways of life," he said, and mentioned an attraction to Arabic cultures as well as ancient cultures like Mayan, Aztec and Incan specifically.
It made sense then that Zerrer gravitated toward linguistics courses early on. When ariving at UK, he took a class with professor Andrew Hippisley and things quickly advanced from there. "As far as looking at things historically, that was one of the first classes where I got engulfed in linguistics and was hooked in it. It was intriguing and insightful."
The relationship with Hippisley also opened the door to a monumental project that is setting the course for Zerrer's future.
This past summer UK's Linguistics program hosted three scholars of the Shughni language. It is a minority language spoken by approximately 40,000 people in the Pamir Mountains of eastern Tajikistan and by another 20,000 in Afghanistan. Shughni has no written tradition and is scarcely documented. Because Tajik and Russian are the exclusive languages of education, government and the media in Tajikistan, Shughni is considered an endangered language. Linguistics Program Director Greg Stump and Hippisley were looking for students to volunteer for the project. Zerrer gladly got involved, and he has been so affected by it, that he plans to continue doing research on the Shughni language.
"My focus when I go to grad school will be sociolinguistic," Zerrer said. "How different people interact via language and within their own communities. The Shughni project – that was sociolinguistic overload," he acknowledged.
He is in the midst of writing a paper on trying to deconstruct the reasons for the some irregularities that Shughni possesses. In Muslim-related languages like Arabic and Farsi the kinship terms are based on the father's side only. In Shughni there is matriarchal lineage at work as well. There are kinship terms for the mother's sisters and so on, that don't exist in any other Muslim culture.
"I haven't been able to figure it out yet," Zerrer confessed." Once I finish my paper I'm going to send it to the three scholars that were over here and see what they think about it, and if they have ideas as to why it is not solely patriarchal. It would be fascinating to find out - and if they don't know - then that's just one of those mysteries."
Zerrer has also expanded his project beyond the Linguistics program, working with professor Diane King in the Anthropology department. "Her research is kinship terms in Kurdish and patriarchal societies – so I've done a cross-breed of two different fields since they are inter-related."
In the process Zerrer has built quite a rapport with numerous professors – relationships where he feels like less of a student and more of a colleague, and will be able to continue to share and bounce ideas off them as he begins his graduate work.
He may never play in a World Series, but with his rededication to academics, Zerrer has taken a series of steps to enrich his own world – and he's just getting started.
by Brian Connors Manke