Brian Cole/Matt Feinberg/Michelle Dumais
Ph.D. Students
Three is the magic number
by Joy Gonsalves
When graduate faculty from the Hispanic Studies Department announce this year's scholarly grant recipients, they'll deliver a triple-whammy. Matthew Feinberg, Michelle Dumais, and Brian Cole were each awarded a grant of some $3,000 sponsored by the University of Minnesota to study their love of loves—Spanish culture— in Madrid. 
Titled the "Program for Cultural Cooperation between Spain's Ministry of Culture and United States' Universities," this joint US-Spanish initiative is designed to promote scholarly representations of Hispanicism abroad. Given to published professors and film societies alike, Cole, Feinberg and Dumais will apply their awards toward each one's dissertation focus. With qualifying exams now behind them, it's time for these third-year Ph.D students to begin a new chapter—literally.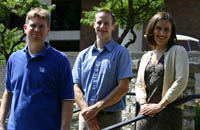 "I'm interested in the role of the arts…specifically, how they affect urban (political) change." Feinberg said. He adds that interdisciplinary approaches combining geography and literary studies are particularly appealing, and he'll be centering his research in a Madridean neighborhood known as Lavapies.  
Dumais, who, like Feinberg, earned a Master's from Middlebury College's C.V. Starr School in Spain, is fascinated by narrative representations of tourism in popular Spanish novels from the 60s to mid 70s. She's looking for viewpoints that are counter-ideological, or those that examine the underside of tourism and modern progress.
Cole will delve into literary greats from another era, the Avant-Garde, exploring examples of ekphrasis, (visual art-inspired literature), in the works of Jarnez, Espina, Salinas, and others. And with the plethora of monumental museums Madrid has to offer, he'll likely have the added bonus of experiencing firsthand the original artworks these authors once wrote about.
But Madrid isn't the only place these scholars chose as a prime locale for their research.  
All three said they were impressed by the recruitment efforts of UK's Hispanic Studies when they were applicants to the doctoral program. Said Dumais, "In contrast to some of the other schools I applied to, the professors, staff, and grad students at UK all collaborated to show you around. Everyone was so informative about the outside community, too, not just the world of grad school. It was a very inclusive atmosphere. " 
A professor at Auburn University, where Cole earned a Master's, told him about the A&S program's noteworthy reputation and encouraged him to apply. One of the top 20 state university graduate programs in the country, UK's Hispanic Studies is especially esteemed for its faculty productivity. And for over sixty years, the department has also maintained a tradition of hosting the Kentucky Foreign Languages Conference.
"We gain a lot of visibility through [the conference] each spring. It's the one of the oldest in the country, it's at UK every year, rather than being rotated to other universities, and Hispanic Studies is the largest unit within the conference," added Feinberg. The annual conference boasts some of the most widely recognized contemporary literary scholars of foreign language in the world, and the turnout every year is considerable. 
There was also unanimous agreement about the collegiality of the program and the generosity of its faculty.  It's clear from a discussion with all three that graduate faculty mentorship isn't bound to academics.  "We've eaten meals at nearly every professor's house," Cole said.  And they were quick to mention that professors/advisors like Susan Larson, with whom each has worked, deserve "seven gold stars by [their] names." Now there's a review to write home about.