Department of Pyschology Ph.D. Student
by Joy Gonsalves
The Department of Psychology has taught Ben Freer a thing or two about learners. Though this third-year Ph.D. student from the Cognitive Development Program has "always been philosophical about why people behave the way they do," his academic experience has challenged his perspective on the cognitive differences among us. 
"It's important to understand people from every walk of life, not as victims, but as different, and as I've grown, this is the direction my studies have taken me."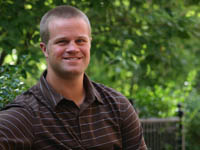 In the middle of the summer, Freer is hard at work on several research projects, each one related to that philosophy. One uses an EEG to measure brain activity in children with ADHD to further break down current research and uncover the cognitive difficulties children are experiencing. "In the past, psychology was doing more theorizing and measured overt performance, whereas we're now trying to pair behavioral performance and brain activity."
A research assistantship, which gave him an opportunity to work at the CATS Clinic in the Social Work and Psychiatry department, has introduced Freer to a variety of other projects. These range from an analysis of trauma narratives, to a study on the distinctions between urban and rural therapists, to an examination of parental attitudes and their effect upon child development and academic performance. Since he came to graduate school wanting to work with children who had experienced maltreatment and/or abuse, the assistantship allowed him to nurture that interest.
Finally, he has enjoyed collaborating with other psychology students and faculty on a science education project involving fourth graders from local public schools. The study aims to determine how effective a teaching intervention strategy can be in helping children create science experiments. "We mainly want to get kids excited about being scientists and researchers." Judging by the kind of energy they apply to their own work, it's a goal this A&S team can really take to task.
A graduate of Valparaiso University in northwest Indiana and Highlands High School in northern Kentucky, Freer said the decision to come to the University of Kentucky was not only easy for him, but for his wife, too, who was looking for a top-ranked pharmacy school. "We'd made a list of our top 5-10 schools, and UK was one of them. In the end, it was a choice between Kansas and Kentucky. That was easy!"
Apparently, he made the right one. In contrast to the cut-throat environment for which some programs are notorious, Freer distinguished his UK graduate experience as overwhelmingly supportive. "Everyone I've come in contact with has consistently demonstrated to me what it means to be an effective faculty member and effective mentor." He thanked his own advisors/mentors for giving him "a lot of room to explore," for fostering a collegial and interdisciplinary feel within the department, and for introducing him to the possibilities of serving at a Research One institution. "Bob and Betty (Lorch) maintain an involved family life, while still bringing in money through research grants." It's a balance that's sometimes tough to strike in academia. 
Freer's diverse interests within the field haven't been discouraged, but enriched at the College of Arts and Sciences. Even faculty whose specializations are different from his own have deeply influenced him. He named Richard Milich as one such mentor. "He's that person who makes you feel as if what you're doing is always first on his list—and he's not even in my department!" Faculty like these, Freer came to realize, often bend over backwards for us when we're not aware of it. Regarding his own development, he professed, "They've molded me as a researcher, teacher, and person."
In the future, this dedicated scholar plans to stay in academia, and perhaps start his own line of research—something that may, like one of his many current endeavors, "hone in on the cognitive side of cognitive development therapy." Or something that "adds color to the drawing," an analogy he used to refer to how qualitative research complements the quantitative. For Freer, the world of experimental psychology has blank-canvas potential.