Staying Around

By Kami Rice
photos by Richie Wireman
When he enlisted, Master Sergeant Jason Skinner wasn't planning on a career in the military. He simply needed money to help pay for the birth of his daughter, and a stint in uniform could provide it. So just out of high school, he made a three-year commitment to the Army. Now 17 years later, he's still wearing his military fatigues.
"I didn't come in for a greater good," Skinner acknowledged. "But after being [in the Army] and falling in love with the people and being part of an organization that's bigger than yourself, that's why I stayed."
In March, Skinner arrived at UK from Fort Riley in Kansas to serve as the senior military instructor with UK's ROTC "Wildcat Battalion." In his new role, the 35-year-old Indiana native serves as the right-hand support for Lieutenant Colonel Jason Cummins, professor of military science. In military lingo, Skinner is Cummins' battle buddy, the non-commissioned officer serving as a counterpart to a commissioned officer.
Skinner also does some instruction in the ROTC program. Since the relationship between commissioned officers and their non-commissioned colleagues is so critical, part of Skinner's vision for his role is to teach the cadets what to expect from the non-commissioned officers they will work with when they enter active duty and to teach them what their battle buddies will expect of them.
Following graduation and a few months of additional training, most ROTC cadets will enter the army as second lieutenants and be partnered with a sergeant first class, also called a platoon sergeant. This non-commissioned officer will have 10 to 20 years of Army experience and will essentially become the newly-minted lieutenant's mentor, teaching him or her the technical and tactical skills that are needed now that the textbook training of classroom days is complete.
"If they get a good quality platoon sergeant and the lieutenant listens to them, it will set them up for success no matter where they go in the Army," explained Skinner. Thus, his vision for modeling for the cadets what a good non-commissioned officer is like and how important it is for cadets to be ready to work well with their platoon sergeants.
Skinner says he's enjoyed the challenges inherent in Army work as well as the leadership training, but it's the people that really make the Army great and that have made him decide to stay for so long.
"The Army is a tight-knit family. We take care of one another. You have people above you trying to help you be a better person and soldier, and you get to pass that on to people below you," he explained. He's enjoyed the variety of people he's been able to meet courtesy of his Army job and all the different stories he's heard from those people.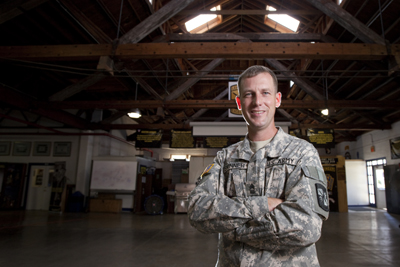 The interesting people he's been meeting throughout his Army career aren't only fellow soldiers. During his first of two year-long deployments to Iraq in support of Operation Iraqi Freedom, the Iraqi people who lived in the area he patrolled made an impression on Skinner. Most his and his fellow soldiers' time was spent away from the base, downtown talking with Iraqis and showing them that the soldiers were there to support them.
"There are good Iraqis out there," he said. "They're trying to live their lives, too, so it was comforting to see improvements [for them] as the year went on, [to see] our efforts to assist them in getting back to what they consider normal."
"They're normal people just like we are," he added. "They want a roof on their head and their kids to get an education. They want the same things out of life we want."
Skinner was also struck by the normalcy of the Iraqi kids, who were playful and curious just like kids at home. The kids, he said, reflect "an innocence that's still in that country—the little kids are still mostly oblivious to what's going on." Being around the small children also brought hope that when they grow up they'll be the ones to turn the country around.
During his second deployment in Iraq, he provided security for military logistical support around Iraq, so the soldiers with him on that assignment didn't get to meet the good Iraqi people, only the ones that were trying to blow them up. He recognizes that those soldiers probably left Iraq with a different impression of the people than he did.
Now far from Iraq, Skinner has found good people in Lexington, too. "It's a great place to live," he said, "with an extremely supportive community." He and his wife and stepson have enjoyed the city (his son and daughter live in Indiana with their mother). It's been striking how appreciative community members have been, he explained, even though Lexington isn't around a military installation where people get used to seeing soldiers out and about.
On several occasions when Skinner has been in places like McDonald's in his uniform, people have paid for his meal. Often former soldiers want to chat and exchange stories. The special bond of the military extends beyond people who actually serve together, though Skinner says, "You don't get any closer to anybody than you do in combat."
And in the stressful realities of combat, "as long as you have good leaders that soldiers can trust, the morale is high." It's building those good, trustworthy leaders that UK's ROTC program is all about. As Skinner notes, "We're the premier leadership development program at UK."