Saving Women or Policing Sex?

by Rebekah Tilley
photos by Richie Wireman and Brett Fisher
In the 2004 Academy Award winning film "Born Into Brothels," the picture painted of Indian sex workers is overwhelmingly tragic. For decades, dedicated feminists and social activists have poured resources into rescuing Indian women from lives of prostitution. Yet as Gender and Women's Studies assistant professor Lucinda Ramberg suggests in her recently completed manuscript, "Given to the Goddess: South Indian Devadasis and the Sexuality of Religion," efforts to "rescue" a particular subset of Indian sex workers called devadasis from prostitution has effectively undermined their economic and social wellbeing, as well as their distinctive religiosity.
In 2009-2010 Ramberg took a leave from her position at UK to accept a fellowship to complete this manuscript as a Research Associate in the Women's Studies and Religion Program at Harvard Divinity School. The research associate program has been a showcase for upcoming feminist scholars of religion since its inception in 1973. "It's a very exciting legacy to be a part of and I am grateful to UK for granting me the time to accept the fellowship at Harvard," said Ramberg. "One of the privileges of being at a place like UK is that the research of junior faculty is considered to be critical to the future of the University and therefore supported."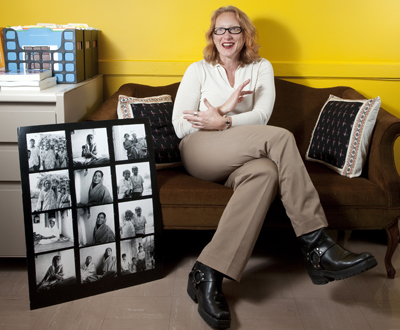 The book focuses on a practice in which girls are given by their Dalit, or outcaste, families to a goddess. This dedication to the Goddess is conducted as a rite of marriage and has several effects including priesthood. Devadasis mediate between the goddess and her followers, and perform rites and rituals on her behalf.
In her book, now under review with Duke University Press, Ramberg argues that another effect of this marriage to the goddess is that it turns daughters into sons, economic actors and lineage bearers for their families. Unlike married women, "dedicated women" do not leave their natal family so any assets they produce remain within the family.
"If you're married to a man, you join your husband's family," Ramberg explained. "Whatever kind of wealth you embody or produce through children or labor belongs to your husband's family. But if you're married to the goddess, all of that belongs to the natal family. Because you're a dedicated woman, you can take a patron or work in a brothel in addition to doing ritual work, and thus your earning capacity is increased. So dedication is a way of investing in the child that has powerful implications for the organization of gender, labor and economy within the family."
This understanding of "sacred prostitution" has a markedly different character than the stereotype of devadasis portrayed by the feminist anti-trafficking movement as discarded women "thrown away by their ignorant, superstitious, poor families into the brothels of Bombay," described Ramberg. "Instead I'm arguing dedication is a means of holding onto the girl and increasing her value within the family.  Dedicated women are obligated to their natal families, they earn for them, bear children for the patriline and frequently function as head of household."
In the name of saving these women from prostitution and caste exploitation, the religious practices that these dedicated women perform have been criminalized and devadasis are threatened with fines and imprisonment. From the women's point of view, these saving projects interfere with their livelihood and their ability to properly execute their duty to the goddess and her devotees.
"This it the moment when the anthropologist comes in and says let's slow down here and ask, 'What does this practice mean to these people who are practicing it?'" said Ramberg. "And in order to be able to answer that question, you have to understand a lot about the every day life world that animates that practice."  Ramberg has conducted over two years of ethnographic field research in rural South India on the practice of dedication and its reform.
One key assumption that Ramberg's research identified is the idea that marriage is the answer for women involved in sex work. In the case of dedicated women, the state is attempting to open these women to marriage by annulling the marriage between the women and her deity.
"The whole premise of these projects of devadasi reform is that prostitution is saturated with violence and marriage is in the space of safety and protection," explained Ramberg. "But you don't have to spend too much time thinking about the pervasiveness of violence within the family to quickly recognize that that is a false and, indeed, dangerous assumption."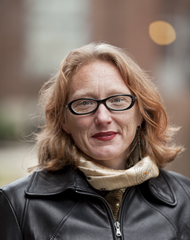 By doing a comparative study of dedicated and non-dedicated women of a similar class and caste status within the same community, Ramberg found that while conventionally married women enjoyed greater respectability within the community, dedicated women had more economic independence and mobility."If we're thinking broadly and deeply about wellbeing, it's not clear that respectability is synonymous with wellbeing for women," said Ramberg. "Certainly it conforms to bourgeois femininity, but respectability does not ensure freedom from violence and does not establish economic security and sustainability. One of the questions the project tries to open up is: what kind of a feminist politics are we pursuing if we're just trying to establish respectability for women?"As a scholar whose feminist training began "at my mother's kitchen table," Ramberg appreciates the freedom she has within the newly created interdisciplinary Department of Women and Gender Studies to draw from many different fields of study when approaching a research topic. "My interest as a scholar has been to bring the questions that seem urgent and obvious to me as a feminist into the anthropological endeavor, into the study of religion, into South Asia Studies as well as to bring the tools and bodies of knowledge that those disciplines offer into my work on gender and sexuality." With those tools, Ramberg is demonstrating that perhaps the tragedy is not in the lives of these women so much as in the lens through which we look at them.