by Robin Roenker
Five years from now, the University of Kentucky will be regarded as one of the centers for cutting-edge research on children at risk.
That's the hope of husband and wife psychology professors Robert and Elizabeth Lorch, who have spearheaded the effort to create a new Children at Risk Research Cluster at UK.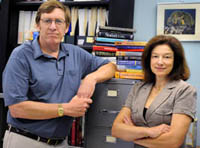 With funds awarded through the university's College of Arts & Sciences, the Lorches have helped oversee the hiring of five new faculty members - three in psychology and two in sociology - whose expertise and broad-ranging scope of interests will serve as a catalyst for advancing and encouraging research at UK on all types of risks children may face, the Lorches say.
"When we talk about children at risk, that can span academic risk, health and mental health risk, risk of trauma, social kinds of risk," says Elizabeth. "It really is very broad."
The wide range of topics likely to be addressed by the cluster was part of its design, says Robert. "The breadth of scope was quite intentional in the sense that we decided to say, 'Let's cast a wide net.' We were looking for researchers with interests in children who are at risk for mental health problems, illness, obesity, academic failure, and on and on. We just wanted the best people we could find, and that's what we think we've got."
Professors Christia Spears-Brown and W. John Curtis joined the Department of Psychology in 2007 as the first two of the cluster's new appointees. Psychologist Peggy Keller and sociologists Brea Perry and Ed Morris will complete the cluster's new hires as they join the UK faculty for the 2008/2009 academic year.
The research interests of the cluster's new professors range from examining at-risk implications, socially speaking, for children who belong to negatively stereotyped groups, be they ethnic, racial, or gender; analyzing how early exposure to traumas can affect brain development in at-risk populations; researching the physiological signs - including advanced heart rate, breathing patterns, etc. - of how children cope with stress. Finally, looking at how children handle challenges at school and at home, particularly in the case of kids growing up with a parent with mental illness.
The work of the cluster will go hand in hand with President Lee T. Todd Jr's initiative to battle "the Kentucky Uglies" in striving to identify ways to help children avoid the academic, health, and other risks that have long ranked the state at the bottom of the nation in educational achievement and near the top in terms of poverty, childhood obesity, and other negative health indicators.
"I think some of the work that comes out of people in this cluster will have impact back into the Commonwealth, to these problems that exist in Kentucky," Elizabeth says.
Another benefit of the new cluster will be its role in promoting research collaborations, both within and between the Departments of Psychology and Sociology, and with other departments and colleges throughout the university, the Lorches say.
It was the strength of research already being done on areas of children at risk at UK - from prevention of drug and alcohol abuse to eating disorders - in fact, that prompted the Lorches to propose the new cluster as a way to "coalesce" the work that was being done and "build on that and bring in key people to strengthen that," Elizabeth says.
One of Elizabeth Lorch's own longtime research priorities along with psychology professor Richard Milich, for example, has been studying the intrinsic risks of academic failure and social difficulties for children diagnosed with ADHD. Both she and Robert also jointly have a grant to study how best to teach the scientific method to elementary school students, which carries implications of how kids might best improve academic performance and avoid academic risk.
With the cluster up and running at full force this year, the Lorches believe it will soon lead to regular brown bag discussion meetings, symposia, and cross-disciplinary research opportunities for graduate students - all of which will foster an atmosphere of creativity and collaboration that's sure to buoy research on children at risk across the campus.
"What we wanted for this cluster was to bring in people who could tap into multiple areas, people who cross boundaries and could serve as bridges across conventional ties," Elizabeth says.
"The goal is to put these [new] people and the people we already have on campus in a room together on a regular basis, and you have them talk and you let the natural connections form," says Robert.
The intended result? "A lot of funded research," he says. "In five years, we want people to think of the University of Kentucky when they think of children at risk."
Click here for more information on the Children at Risk Research Cluster