By Kami L. Rice
May 2009
Whatever stereotypes you have of Russian Studies graduates, Phillip Stosberg probably doesn't fit them. He arrived at UK while a drummer for a Louisville-based chaotic punk band, The National Acrobat, that was sometimes touring nationally. Because he had to find practice space somewhere outside his dorm, living in the UK dormitories for two years was "like living in oblivion as far as drumming goes."
"Actually, I didn't really want to be in school all that much," Stosberg admits. But fortunately, courtesy of parents who had always messaged the importance of it, he figured it was good to go to college. He had visited his older siblings at UK. It seemed like a good place, and they liked it, so he enrolled. And, he says, "I fell in love with it when I got there."
He found his way to Russian Studies, pointing to seeds planted by his high school English teacher who introduced him to Russian literature. From Crime and Punishment, he says, you can take off. Russian literature eventually led Stosberg to the Russian language.
Now Stosberg is completing his second year teaching Russian to high school students at Pritzker College Prep, a new Chicago charter school that is celebrating its first graduating class this year. Located in the Hermosa neighborhood of Chicago's West Side, the school's students are 95 percent minority and most are first generation college students. Ninety-five percent of the inaugural graduates have been accepted to four-year schools.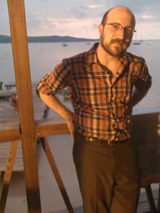 "I did, by the way, encourage some students to go to the University of Kentucky, students that it's the right environment for," Stosberg notes. "I look back on that time of my life as being very shaping and intellectually stimulating." He points to the quality of his professors—giving "shout-outs" to Karen Petrone, Cynthia Ruder, Gerald Janecek, Edward Lee, and Dan Rowland—as well as to the importance of meeting other people at UK with similar intellectual interests. "Where else,"asks Stosberg, "do you walk by and hear a professor and students taking turns reading the Odyssey straight through in the library?"
Studying at UK "has opened many doors for me," he says. "I studied hard, got a good GPA, found good professors and found my niche. It's nice when I meet people around the country that know these professors [I studied under]."
Stosberg's UK years included a year of study in Russia where he lived in the city of Vladimir with the Ivannikov family. The study abroad opportunity was organized by the American Council of Teachers of Russian, an organization Stosberg is now a member of as a teacher. Of Vladimir, he says, "It was a great place. I loved it, loved it." Vladimir was once the capital of what then constituted Russia and is "very Russian." Stosberg's time there provided the chance to get into the "muck," or real life, of Russia.
"There are a lot of things to understand about Russia," he says. "It's a mild-boggling place. There's a different Russian logic." There's much pain in Russia, he notes, because the country has never given its people the best treatment. He says it's ironic that the Soviets actually did some good things for their people. Because Russians are very hospitable, it's easy to get pulled into real Russian life around a table with friends, family, food and vodka. When done in a proper way (moderate and reasonable), Stosberg says the vodka culture serves a good role.
After graduating summa cum laude from UK in 2004 with a B.A. in Russian Studies, Stosberg spent the summer in the Russian School at Middlebury College's summer language immersion program. He then returned to UK to continue studying German, including spending a year in Heidelberg, Germany, leading to a second B.A. in German Studies in 2006.
After a brief time back in Louisville teaching German part-time and substitute teaching, Stosberg made his way to Chicago to pursue music and other teaching jobs. He worked in a drum shop for a year before finding the Noble Street network of charter schools. In 2008 Noble hired him for his current position at Pritzker.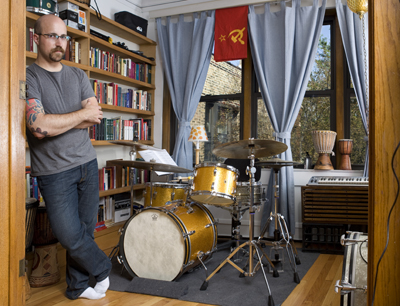 Stosberg is always on the go, it seems. He lives in the Hermosa neighborhood around Pritzker, usually biking to work. Work, it's important to note, that he loves. "I wouldn't trade it for anything," he says, though he wouldn't mind getting to play music more. Currently, his primary music endeavor is with the Chicago jazz band Jon Williams Swing Group. A long-time lover of jazz, he enjoys the challenge of playing difficult music. He also works with Pritzker music students, teaching drum lessons for free in the summer. Additionally, Stosberg is working on a Master's degree in Teaching World Languages from DePaul University.
Passionate about many things, Stosberg easily waxes eloquent about everything from politics and philosophy to music and how much he enjoys teaching. A big believer in making education fun, he is also quick to guide his students toward making good choices when they head off to college. One senses that his impact on students is just as great as the impact of his own high school teacher, the one that introduced him to Russian literature and is part of the reason he believes so much in teaching high schoolers now. Perhaps some future UK alumni from Chicago will point back to their high school Russian teacher who told them about that good school in Kentucky.