Health Inequalities and the State

The 2008 Russia–Georgia War was a blip on the screen for most Americans who may remember it only because the conflict was referenced during the opening ceremonies of the Summer Olympics in Beijing, which coincided with the five-day war. While most of  us still struggle to locate Georgia on a map, the war had profound effects on tens of thousands of people living in militarily contested areas.
 
"It was actually looking at a map during my senior year in college that got me interested in that region of the world," said Erin Koch, assistant professor in the UK Department of Anthropology, who has been researching in Georgia since 2000.

Georgia is located in the South Caucasus, which is a neck of land that connects Asia with Europe and is bound by the Black Sea and the Caspian Sea. It includes three countries that are all former Soviet republics: Armenia, Azerbaijan, and Georgia.
 



During Koch's final years as an undergraduate, the Soviet Union fell apart and the newly formed countries in the Caucasus region were rocked politically and economically.

In 2001, Koch spent 11 months living in Tbilisi, Georgia's capital city, funded by grants from the National Science Foundation and Social Science Research Council. This early project, which included several subsequent research trips, looked at the dismantling of the Soviet medical system and how that affected the health of the overall population.

In preliminary conversations with American doctors who were consulting on health care reform in Georgia, they were unequivocal about what was one of the biggest medical issues facing Georgians: tuberculosis. Koch conducted research at Georgia's National Tuberculosis Program to examine how Georgian health professionals were implementing the WHO tuberculosis protocol in TB laboratory, clinical, prison and administrative settings, to better suit their cultural and economic realities.

"The Georgians are really using their expertise to make this standardized protocol work in the local context," said Koch. "One thing I follow in the book I'm writing is how they make a highly standardized biomedical protocol more effective in the local economic, cultural and political context."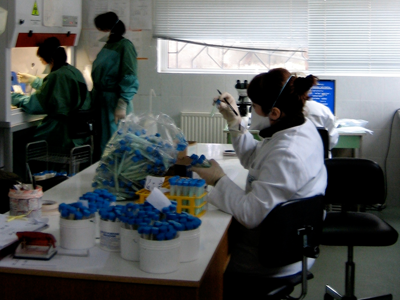 Lab techs process diagnostic tests at the National TB Reference Lab in Tbilisi. Photo by E. Koch

As a freshman sitting in her introduction to cultural anthropology class, Koch had what she describes as a "conversion experience" where she realized she was an anthropologist. It is a field that is inherently multi-disciplinary, and considers the many facets that inform and shape people's lives and make them meaningful.
 
Two things that can dramatically shape people's lives are health inequalities and war.

During the 2008 Georgia-Russian War, Koch steered her research in an unexpected direction. A large population of Georgians had been displaced and now relied on the Georgian government and foreign aid to care for them – from housing to food to access to medical care. What are the health effects of being displaced in this way? How does being an Internally Displaced Person (IDP) affect access to medical care?
 
With funding from the National Council for Eurasian and East European Research (NCEEER), Koch is working in collaboration with Elizabeth Dunn at the University of Colorado to answer these questions. While Dunn will be looking at newly displaced peoples from the 2008 war, Koch will work in Zugdidi with IDPs from a 1992-1993 civil war that occurred shortly after Georgia separated from the Soviet Union in 1991. More than 250,000 people remain displaced from that earlier war.

"I'm interested in how relationships between science, medicine and the state influence people's wellbeing," said Koch. "In both my prior study about tuberculosis and the new project, I situate my research in the larger context of health care reforms in Georgia where an insurance system is developing and access to state-supported medical care is diminishing as they adopt an increasingly privatized primary health care system. It's interesting and it's alarming because people who are in most need of state-supported medical services are being pushed farther to the margins."

An IDP is an official category that is used by the U.N., humanitarian organizations and governments. IDPs, like refugees, flee their homes in the face of violence, persecution, or natural disasters. But unlike refugees, IDPs do not cross an internationally recognized boundary and are not afforded rights under international law. The current situation in Georgia is eerily similar to the aftermath of Hurricane Katrina where America's own IDPs were further marginalized during their time of greatest need.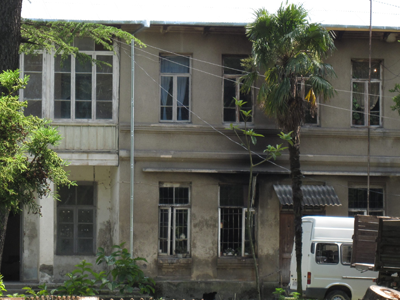 This collective center (state-owned or private building) is typical of IDP living conditions in and near Zugdidi. Photo by E. Koch

"As a medical anthropologist, a red thread that runs through both of my projects in Georgia is the question of how looking at the production and distribution of medical services allows me to study health and inequalities from the ground up," Koch explained.

In her pilot research last summer, funded by UK and IREX, it became clear that the overall health status of Georgian IDPs is a lot lower than the rest of the population. Because their living conditions are characterized by overcrowding, poor sanitation, limited access to clean water, and limited access to nutritionally beneficial food, IDPs suffer a significant number of health problems including chronic stress and hypertension, gastrointestinal and infectious diseases, and malnutrition.

Going forward, Koch hopes that her academic work will illuminate the everyday lives of Georgians, who receive relatively little attention in anthropology. She also hopes that her work will have real-world impact. "One of my long-term goals is to take the empirical findings and not just use them for academic purposes but to bridge academic and policy realms" Koch said. "I want to use my ethnographic findings to help aid organizations or NGOs that work with IDPs, or other people whose lives are shaped by health inequalities, to tailor their work in more locally meaningful ways."
by Rebekah Tilley