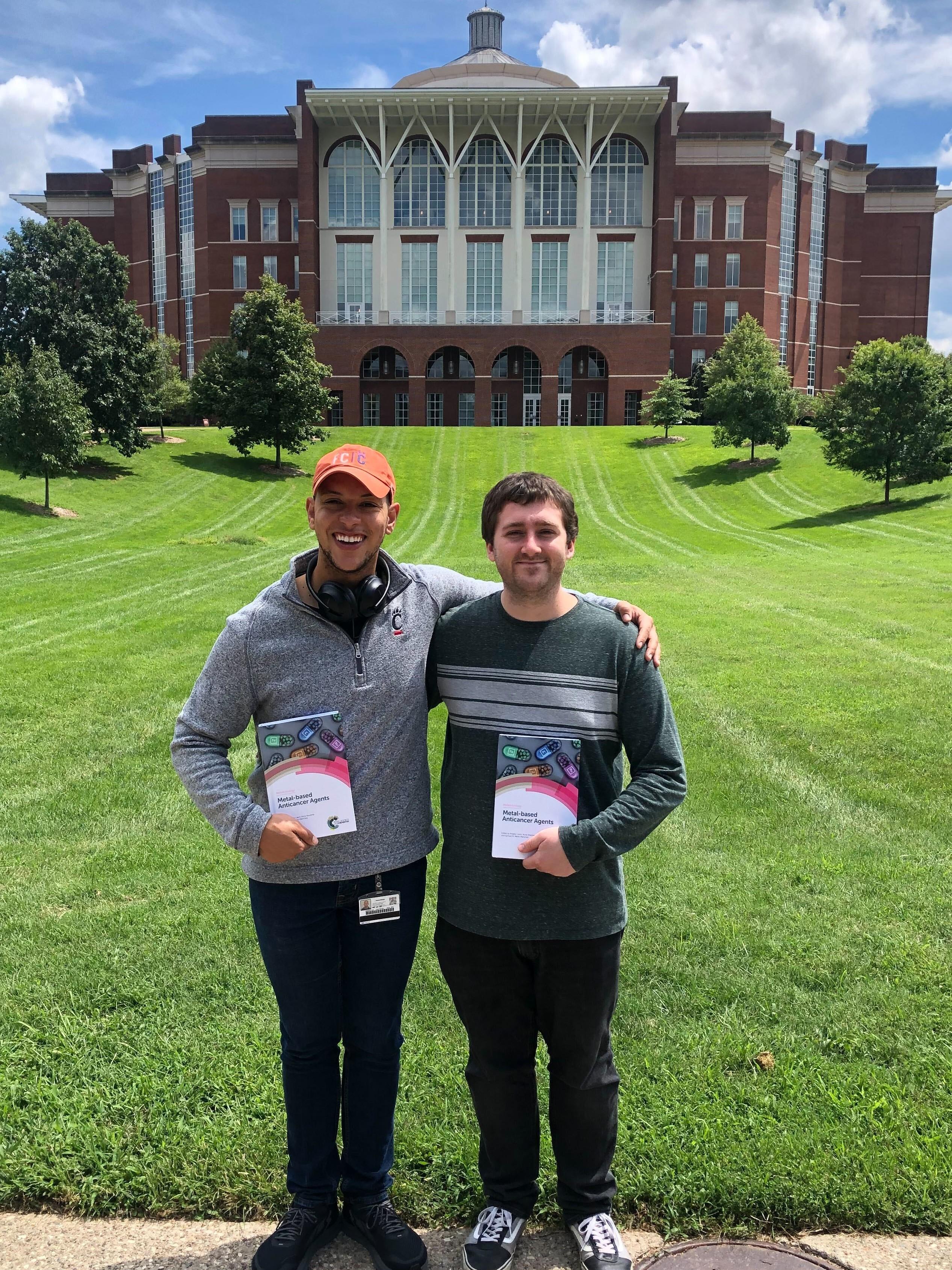 LEXINGTON, Ky. -- Richard Mitchell,left, and Austin Hachey, graduate students in the Glazer and Heidary Labs of the Department of Chemistry in the University of Kentucky's College of Arts & Sciences, each have received an Outstanding Research Poster Prize at the 2022 Metals in Medicine Gordon Research Conference in Andover, New Hampshire. Their work was selected from more than 80 presentations. 
Mitchell, co-advised by Professor Jason DeRouchey, presented his work on the synthesis and characterization of a ruthenium complex, which induces ribosome biogenesis stress. This compound mimics oxaliplatin, a chemotherapeutic that is commonly used in the treatment of colorectal cancer.  
Few compounds can prevent the biosynthesis of ribosomes, the cellular machines that make proteins. As a result, the new ruthenium complex has significant promise as a potential treatment for cancers that have developed oxaliplatin resistance. 
Hachey presented his creation of a library of potent and selective small molecule inhibitors of Cytochrome P450 1B1 (CYP1B1), an enzyme involved in chemotherapeutic resistance.  
Using a green chemistry approach, Hachey synthesized more than 30 compounds and determined structure-activity relationships, in collaboration with David Heidary, a principal investigator in the Department of Chemistry. Hachey's work develops an in-depth understanding of the key molecular interactions of the inhibitors through a combination of cellular assays, enzymology and mutagenesis. 
Both Mitchell and Hachey were presented with the book "Metal-based Anticancer Agents," courtesy of the Royal Society of Chemistry. 
The Metals in Medicine Gordon Research Conference is the premier scientific meeting for researchers working in the areas of metallodrugs, metal-based imaging agents and metalloprotein targets.