Building a Cultural Bridge Between Two Countries
The University of Kentucky College of Arts & Sciences and the Beijing Foreign Studies University partnership provides many opportunities to Chinese and American students
By Jennifer T. Allen
Two years ago, the University of Kentucky College of Arts & Sciences began a partnership with the Beijing Foreign Studies University (BFSU) hoping to create global opportunities for American and Chinese students. With 32 BFSU students currently studying in Lexington, that goal has become a reality.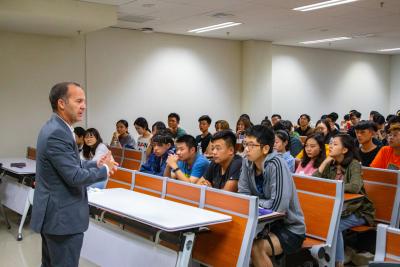 BFSU brings students from across China to Beijing, the cultural capital of China, to prepare them to study in the United States and in other partner universities around the world. As a pathway program, students spend one or two years at the Beijing Foreign Studies University and then choose a program for a study abroad experience with the goal of obtaining a college degree.
"This is a really good opportunity for students from throughout China to be able to make the leap and get a degree at an American university," said Mark Kornbluh, dean of the College of Arts & Sciences at the University of Kentucky. "BFSU has developed a unique program that really offers students from around China the opportunity to come to the United States. This brings us a really diverse group of students who are eager to get an American degree."
BFSU began its study abroad model with universities in the United Kingdom. Two years ago, the College of Arts & Sciences at the University of Kentucky became BFSU's first partner university in the United States.
"We established a strategic partnership with the University of Kentucky to help us open the gates to the United States for our students," said GAO Xiaodong, dean of the School of Continuing Education at the Beijing Foreign Studies University.
Since BFSU's current academic system was modeled to transfer credits to universities in the United Kingdom, meetings between the two new partner universities made sure Chinese students' academic work would transfer.
"We really value Dean Kornbluh as someone we can trust and work with," Dean GAO said. "While we were working to match our syllabus with courses at the University of Kentucky, Dean Kornbluh had creative ideas and concepts which allowed us to establish a strong partnership and transfer up to 30 credits for our students when they come to Kentucky."
Students from BFSU currently studying in the College of Arts and Sciences at the University of Kentucky are taking part in studies spanning the liberal arts and sciences, including Economics, Foreign Language and International Economics, Mathematics, and Environmental and Sustainability Studies. In order to ensure Chinese students succeed at the University of Kentucky, the College of Arts & Sciences offers many academic services, including the Center for English as a Second Language and science and writing learning centers. To make sure students truly experience American culture, many extracurricular activities are also planned such as attending University of Kentucky football and basketball games, horseback riding, touring Mammoth Cave National Park, and pumpkin carving.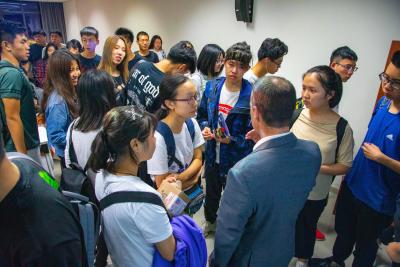 "The College of Arts & Sciences has done an excellent job providing extracurricular activities and professional services that help our students solve problems they may encounter during their studies," 
Dean GAO said.
As both universities look to the future, they see the partnership growing and continuing to strengthen. "We would like to see this program continue for a long time," Dean Kornbluh said. "It is very exciting to have students from across China and I really believe Chinese students are benefiting from the educational opportunities Dean GAO is committed to providing."
BFSU has recently built an international high school in Beijing where students from around China will complete two to three years of high school and then get their college degrees abroad. "This is exciting because it means Chinese students will have the opportunity to get the full four year experience at the University of Kentucky," Dean Kornbluh said. "We are eager to collaborate with BFSU on this program and to help with the curriculum for the high school and provide opportunities for our faculty to come and talk with students and provide short courses."
The University of Kentucky is also looking at ways to begin sending professors to BFSU to teach courses during the students' first year at the university. The two universities are also looking to incorporate faculty exchanges and opportunities for Kentucky students to travel to China.
"If University of Kentucky professors come to BFSU to teach our students before they make a decision on where they would like to study abroad, it gives the students a chance to really see, touch and feel how an academic class may be taught in the United States," Dean GAO said.
Dean Kornbluh also sees the value in sending American students to China for a truly cultural experience. "BFSU is a top university in China and they teach a wide range of languages including English. While we have a strong Chinese studies program in the College of Arts & Sciences and we offer a lot of opportunities for Chinese studies students to go to China during the summer, we would like more opportunities for our American students who don't know Chinese to have the opportunity to experience China," he said. "There is no better place for that than in Beijing – an enormously rich capital city where there is so much for students to take in. We would like to see this grow into an opportunity for our students to go during winter or summer break."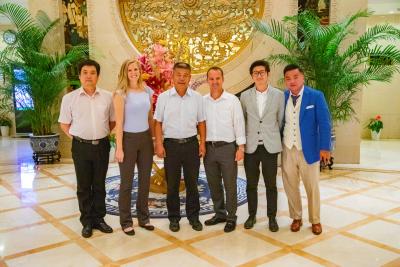 International partnerships such as this would not be possible without a University-wide focus on international education. "I'm excited that under the leadership of Sue Roberts, associate provost for internationalization, we are growing our engagement in international education. We are looking to bring more students to the University of Kentucky from all around the world and to send our students everywhere in the world," Dean Kornbluh said. "It is important to provide a global education for the 21st century and for the College of Arts & Sciences, this is a necessity. You have to be able to connect with the world and so much of what we do in this college is about building bridges, building cross-cultural understanding, and being able to talk in each other's languages. We are thrilled the university continues on an upward commitment in this area and we are committed to leading that charge."
With the partnership strengthening between the University of Kentucky and BFSU, the future is bright.
"I am very confident about the further development of our partnership in the future. We hope we can continue to improve the quality of the students we send to the University of Kentucky and also increase the numbers of students we send to study in Kentucky," Dean GAO said. "At the same time, we welcome American students to come to BFSU and have a cultural experience so, eventually, we can have a cultural bridge between the two countries."