by Rachel Knuth
(July 29, 2014) — Adam J. Banks professor in the University of Kentucky College of Arts and Sciences Department of Writing, Rhetoric and Digital Studies recently received the 2014 Rhetorician of the Year at The Young Rhetoricians Conference.
Banks, born and raised in Cleveland, Ohio, received his bachelor's degree from Cleveland State University and his master's and doctoral degrees in English from Penn State University. Banks is currently the director of writing, rhetoric and digital studies (WRD), teaching classes in African-American rhetoric, digital rhetoric, community literacy and rhetoric, and composition theory. Banks also serves as the assistant chair of Conference on College of Composition and Communication.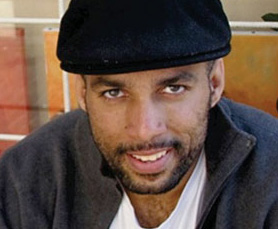 A national leader in social and digital media, Banks is also a national expert on African-American rhetoric and technology, focusing on social media. His blog, The Talking Book, explores social media and race in America.  
Some of Banks' accomplishments include his award-winning book "Race, Rhetoric and Technology: Searching for Higher Ground" that challenges teachers and scholars in writing and technology fields to explore black traditions more thoroughly while calling African Americans to focus on technology.
Previously, Banks was the associate professor of writing and rhetoric in Syracuse University's writing program. Banks served as the Langston Hughes Visiting Professor of English at the University of Kansas in spring 2010 where he taught courses on African-American rhetoric, new media and technologies. Banks spent Fall 2011 as a visiting scholar in comparative media studies at Massachusetts Institute of Technology where he is beginning to work on a new book that reexamines the "Talking Book" literacy trope for our current digital age. In addition, Banks is the author of "Digital Griots: African American Rhetoric in a Multimedia Age."
The Young Rhetoricians Conference's Rhetorician of the Year award was started in 1988. The organization selects one candidate every year who shows exemplary work, based on service, in digital media, African-American rhetoric, social and cultural issues in technology, community literacies and engagement, and rhetoric/composition theory. In presenting the award, conference leaders said Banks is distinguished as an influential leader in English studies and demonstrates an important standard for colleagues in the discipline and beyond.