By A Fish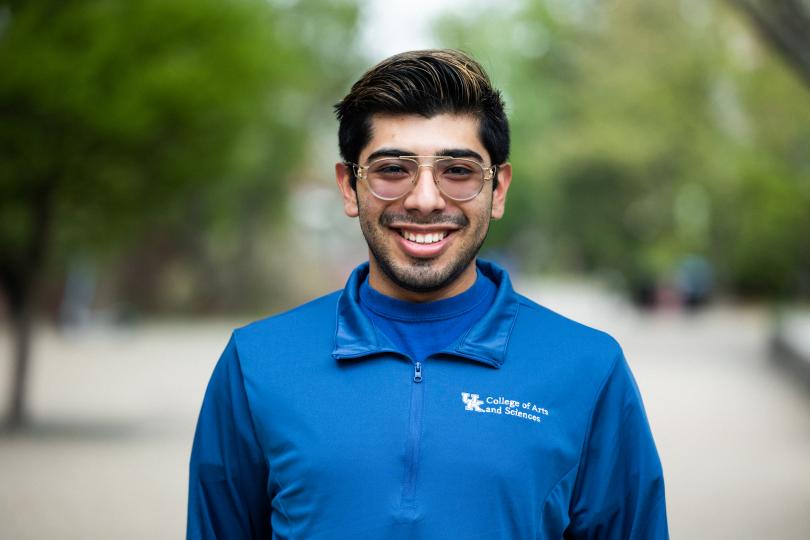 LEXINGTON, Ky – Carlos Verea Zacarias sees his position as president of the University of Kentucky Latino Student Union as one that facilitates recovery — he's making sure his home on campus continues to bounce back from the COVID-19 pandemic and is set to help its members in their college careers and beyond. 
"The last couple of presidents were focused on making sure our organization stayed active during COVID," Verea Zacarias said. "My job is making sure that my students find a home at UK and that they connect with one another and rely upon each other. My job is to regrow that community and make sure that everything stays in check both with administrative work and with the well-being of the students." 
Healing is part of Verea Zacarias' future. The pre-med biology major was named an ambassador for The College of Arts and Sciences at UK in the spring of 2022. He's hard at work studying and making history in Greek life on campus; he is also the president of B.I.IL.S. an interest group bringing a multiculturally based fraternity to campus. 
He also works with the UK Martin Luther King Jr. Center in the Gatton Student Center, which is a multicultural center for all students. Center participants helped found the Latino Student Union and has been a host for meetings. This year, Verea Zacarias is leading efforts for Latinx/Hispanic Heritage Month, and later this year with the Latino Student Union's 10-year anniversary.  
"I started college as COVID student, so it was kind of hard to get involved around campus," Verea Zacarias said. "Even when you did, it was all Zoom meetings, and in-person events were very limited. Now that we've moved away from that, my job has been to encourage students to come back out to events and meetings." 
Upper classmen from the Latino Student Union told Zacarias about how pre-COVID events filled an entire room and then some. His goal it to build the organization back up to that point and build a community even if they don't identify as Latinx. 
"We had an ice cream social for the first meeting of the year just to introduce students to what LSU is and introduce other Latino-based or multicultural organizations to each other." 
Other events to look out for include working with the Omicron Zeta Chapter of Sigma Lambda Gamma National Sorority, Incorporated for the annual Dia De Los Muertos, or Day of the Dead, celebration in November. Events scheduled for Latinx/Hispanic Heritage Month include a soccer tournament in collaboration with other on campus organizations; the keynote speaker Eduardo Chavez, the grandson of civil rights leader Cesar Chavez; and a movie night for LSU. 
Verea Zacarias is a first-generation student. Born in Mexico, he moved to Tennessee when he started school. He said his experience was a "cold shower"; learning English was a necessity in school, but after that hurdle his academic career took off. As a first-generation American, he learned to navigate scholarship and college applications, and as a new Wildcat he took advantage of on-campus opportunities for the first time. Verea Zacarias is now helping his younger siblings, prospective students and current Latino Student Union members. 
"UK was close to home," said Verea Zacarias on what brought him to UK. "I'm from Clarksville, Tennessee, so it's three hours away from here."