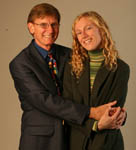 There is nothing pretentious or "prude" about UK Alumni Julie Sweet and Tom Riley. This husband and wife team – now history professors at Baylor University in Waco, Texas – say their formative years as Ph.D. candidates in the University of Kentucky's Department of History, were crucial to their future success.
"Our professors were genuinely nice people who went out of their way to help us," Riley said. "I wasn't the best writer, but Dr. Eller understood that." Riley, a retired naval officer from West Virginia, focused his dissertation on his home state during World War II, combining both his childhood and military experiences to write it. Serving as a teaching assistant under Dr. Ireland, Riley named this professor as a dynamic pedagogical mentor from his graduate experience.
"And Dr. Dan Smith was always reminding me, 'This is not a dissertation, this is a manuscript!' " Sweet said. She did, in fact, thoroughly revise and publish the project as a first book, Negotiating for Georgia (2005). The text examines one of her favorite subjects, colonial Georgia, and analyzes the conflict between the British Colonists and Creek Indians.
Their list continues. From department faculty, to Graduate School administrative staff, Riley and Sweet have an enthusiasm and gratitude for their A&S Education that most of us are now in the process of taking for granted.
Sweet acknowledged that she "never would have finished in three years without the help of the department and the Graduate School," and Riley offered that the administrative staff of both truly worked to hold everything together. As words of advice to new students at UK, Sweet reminded us: "Remember how lucky you are. Get invested in your professors; they're the real deal."
We can take it from a couple who knows.
You'll discover after a good heart-to-heart with the two that beyond their love of history, is a passion for teaching and for giving back. Sweet attributes her unconventional pedagogy, which incorporates props, costumes, and multi-media, to an innovative military history professor she had as an undergraduate at the University of Notre Dame.
"I loved what Father Kerby did in the classroom. I took every class he taught." Then there was her own background in theatre, where she often worked behind the scenes on props, sets, and lighting. So, pairing her theatrical experiences with her time as a student in Kerby's class, Sweet must've been dazzled at the possibilities she envisioned her future students. It's no surprise that teaching awards awaited her at Baylor, among them, the Outstanding Teaching Award for a Non-Tenured Professor.
Riley, who exudes a warm, friendly energy, confesses that his own real-life experience has informed his teaching, as well—for better or for worse: "I am with my students how I am with my sailors. Maybe I'm too protective of them" he mused. "But I take it personally when they're not doing well."
And when he describes his experience teaching daily living skills to mentally retarded adults, his tone is reverent: "As students, they were some of the kindest, most respectful human beings I've met."
He's an inspiration to those of us who haven't followed traditional paths to academia, and though they'll both tell you that Sweet is the avid researcher of the two, their longstanding appreciations for history (particularly, military history) were bound to collide. Dressed in full costume at Colonial Williamsburg, a living history museum, the couple met while in training. A friendship, and then a romance followed, taking the two on a Western path from Virginia's museum, to Kentucky's graduate school, to Texas's professorships.
"We're always together; we're the inseparable couple…" said Sweet, followed by Riley, "…And the students will tell us how much it means to see us together." As you could've guessed, they're the type that finishes each other's sentences.
"We're a kind of role model we never expected to be." Role models for us all, in fact. Both Sweet and Riley obviously have as much respect for their students as they have for one another. And though they're "always together," they certainly don't keep to themselves--they can't!
Outside the classroom, the couple serves as Faculty In Residence and share a house with 160 roommates – young women, from sophomores to seniors. Notwithstanding the hot dog cookouts, picnics, and other activities they both organize, their presence alone invites student-faculty interaction.
"We want to make connections with them," Sweet said, "so theyknow that we want them to succeed."
Even though a full house doesn't seem to bother these two in the least, I couldn't help but ask if there were prospects for any un-interrupted alone time in the near future.
Riley chuckled, "Next month. Our anniversary. I better remember!"  I asked him where they were headed. "The Great Smoky Mountains."
This time, to connect with the trees.
By Joy Gonsalves