Jackie Murray
Availability
Office Hours
Fridays 3 pm - 4 pm (schedule an appointment)
SPRING: 
CLA 551 / CLA 621 - Ancient Greek Epic Poetry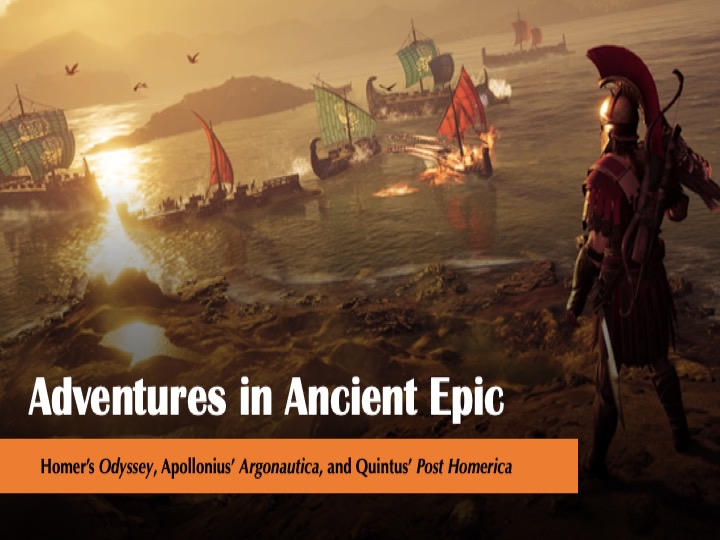 International Collaborations:
Selected Invited Lectures
Outreach
Centre For Hellenic Studies - Reading Greek Tragedy Online
Apollonius of Rhodes' Argonautica Live Stream
Wednesday, April 28 at 3:00-4:30 pm EDT: A live reading and discussion of the Argonautica (translation by Aaron Poochigian), hosted by Joel Christensen (Brandeis University) with guest speaker Jackie Murray (University of Kentucky). More information is coming soon about the featured actors.
Reading the beginning of "Patois Iliad in the theatre of Aphrodisias"
Education
Ph.D. Classics, University of Washington (2005); M.A. Classics, University of Western Ontario; B.A. (Summa cum Laude) Latin and Classical Studies, University of Guelph
Research
Dr. Jackie Murray is Associate Professor of Classics in the Modern and Classical Languages, Literatures and Cultures Department at the University of Kentucky. She is on the editorial board of Classical Philology, Religion Compass, and Brill's Research Perspectives in Classical Poetry.
Greek and Latin poetry of the 3rd century BCE-2nd century CE

Ancient Astronomy and Archeoastronomy

Race, Racism, White Supremacy and the Classics

Blackness in Antiquity

Reception of Classics in African-American and Afro-Caribbean Literature

Hellenistic and Roman Intellectual networks

Race and Slavery in Ancient Philosophy
In her own words:
My primary research area is Hellenistic Poetry, its reception of Archaic and Classical Greek literature, its influence on Latin poetry and Imperial Greek literature, and on Latin and Imperial Literature. My publications have focused mainly, but not exclusively, on Apollonius' Argonautica and Callimachus' Hymn to Demeter. My secondary area is Race and the Classics and the reception of Classics in African American and Afro-Caribbean literature. I am drawn to complexity and to subjects that require a constellation of approaches and perspectives.
While it may appear that my two areas of interest are worlds apart, and admittedly, I was forced into my second area of interest by the racism I have experienced during my career, I have, nevertheless, found these two avenues of inquiry comparable, compatible, and mutually reinforcing. Both require a high degree of intellectual rigor. On the one hand, friends and colleagues who work on Classical Greek and Roman literature are constantly reminding me how off-putting the steep learning curve that Hellenistic poetry is for many. On the other hand, the relationships between Classics and Race Studies and racism is very fraught: the symbolic power of the discipline has been used and continues to be used as a vehicle to promote and reinforce white supremacist ideas about who can and should be an intellectual and who belongs in the academy. It is therefore crucial to pursue both, and in the order I have ranked them. This is not because I think the two focuses of study are unequal or simply because my ranking reflects the order I took them up. Rather, my research in Hellenistic Poetry, frankly, lends credibility to my work on Race and the Classics, as Classics itself and not just a sub-branch or an extraneous field of "Africana Classics". Both Hellenistic Poetry and Race Studies require that I develop a broad range of perspectives and use different types of evidence to gain insight that I translate into knowledge. In general, my research pursues projects that open new horizons and encourage further dialogue and exploration among an ever-broadening community of scholars.
With respect to these interests I have developed courses that are cross-listed with the African and Africana Studies Department at the University of Kentucky: "Reception of Classics in African-American and Afro-Caribbean Literature", "Classics and Black Theatre", "Blacks and the Classics I: Antiquity to Emancipation",  "Blacks and the Classics II: Classics and Segregation", "Race, Ethnicity, and Identity in Antiquity," and "Gender, Sexuality & Racecraft in the Celluloid Classical World." The last course, I also teach cross-listed with Gender and Women's Studies along with "Gender and Sexuality in Ancient Greece and Rome", "Wicked Women: Women in Power - Cleopatra and Wu Zetian," "Amazons for Americans" and "Sex and the Ancient City."
Languages Courses:
Undergraduate: GRK 101, 102, 201, 202
Undergraduate/Graduate: Prose composiiton; Greek Prose Fiction; Hellenistic Poetry; Homer; Greek Drama; Jewish Writers in Greek
Selected Publications:
In print / press
2021 "Race and Sexuality: Racecraft in the Odyssey" in Denise McCoskey, ed., Bloomsbury Cultural History of Race Series. [in press]
2021 "Poetically Erect again: The female oriented dildo-humor in Herodas' Mimiamb VI" Hellenistica Groningana 25 [in press]
2020 "Quarrelling with Callimachus: A Response to Annette Harder's Aspects of the Interaction between Apollonius Rhodius and Callimachus", Aevum Antiquum 19 (Callimaco e Apollonio) 77-106.
2019 "Poetically Erect: The female oriented humor in Callimachus' Hymn to Demeter." Hellenistica Groningana 24: New Perspectives in Callimachean Scholarship (Leuven) 249-263. 
2019 "W.E.B. Du Bois' The Quest of the Silver Fleece: The Education of Black  Medea." TAPA 149.2 Supplement (Sesquicentennial Anniversary Issue 2019) 141-160.
2018 "Silencing Orpheus: The fiction of Performance in Apollonius' Argonautica" in M.A. Harder e.o. (eds.) Hellenistica Groningana 23: Poetry and Performance (Leuven) 201-224.
Awards, Fellowships and Honors
2022 Fellowship at the American Academy in Berlin
2020 Fellowship at the Center for Hellenic Studies
2018 Visiting Scholar at the Center for Hellenic Studies
2017 Margo Tytus Fellowship for Visiting Scholars, University of Cincinnati 
2015-2016 Mary C. Bingham Faculty Fellowship, University of Kentucky
2011-2012 Andrew Heiskell/NEH Post-Doctoral Fellowship, American Academy in Rome 
2010 NEH Fellowship: Institute for Enabling Geospatial Scholarship, UVA
2010 Mellon Faculty Seminar– Tang Museum
2006-2007 University of Venice Advanced Seminar in Ancient Mediterranean Literature
2006 NEH Fellowship: UCLA Summer Institute on Models of Ancient Rome
2004-2005 Simpson Center Society of Scholars, University of Washington
2004-2005 Alvord Dissertation Fellowship, University of Washington
2004 Jim Greenfield Dissertation Fellowship, University of Washington
2003-2004 Lead Teaching Associate, University of Washington
1999-2003 Social Sciences and Humanities Research Council of Canada Doctoral Fellowship (SSHRCC)
1998-1999 Ontario Graduate Scholarship