Atomic Layer Deposition Methods for Future Textile Electronic Systems
Date:
02/10/2017 -

4:00pm

to

4:50pm
Speaker(s) / Presenter(s):
Prof. Jess Jur, Assistant Professor of Textile Engineering, North Carolina State University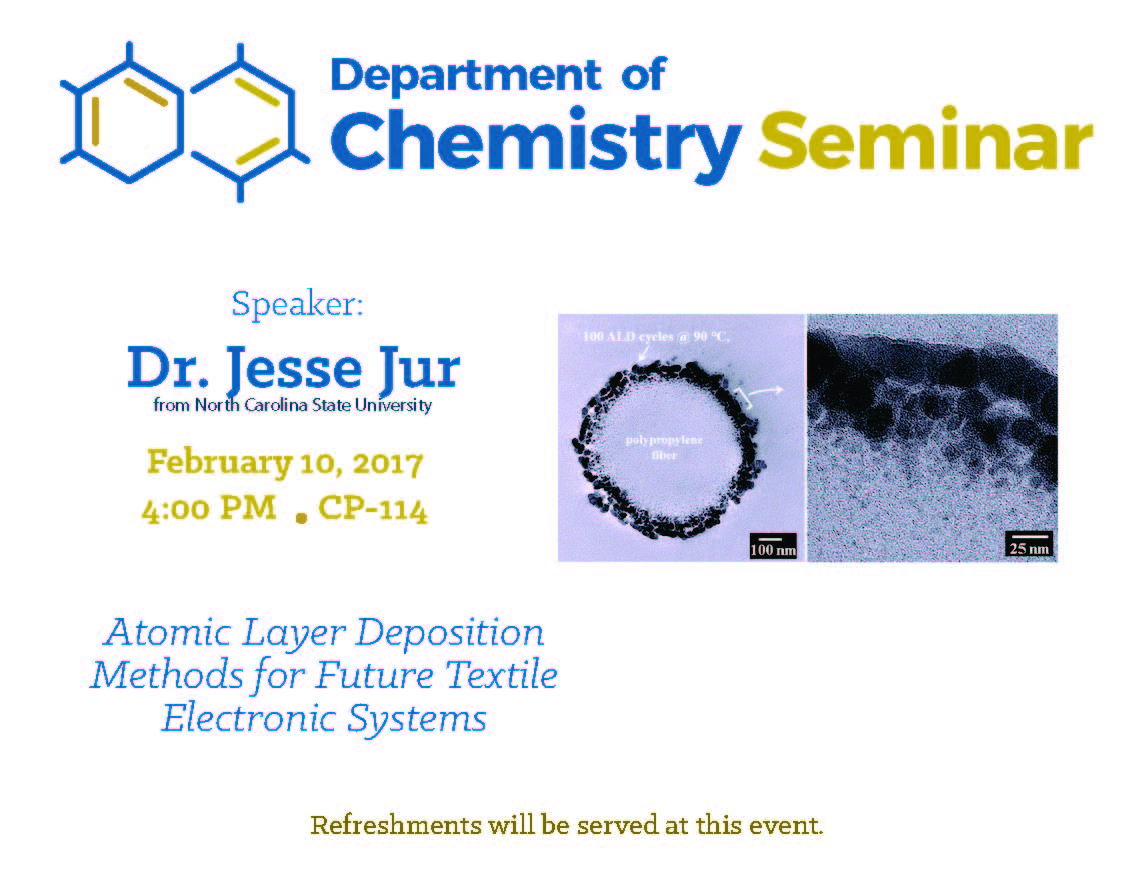 Atomic Layer Deposition Methods for Future Textile Electronic Systems
Advanced materials processing methods provides the opportunity for next-generation flexible electronics such as a textile fabric.  This presentation will review activity in the NEXT (Nano-Extended Textiles) research group at NC State, focused on the use of engineering design principles to develop integration and materials strategies of electronics in textiles that include new techniques that enable future industrial growth.  To this end, atomic layer deposition (ALD) and ALD-related vacuum-based processes, typically used for nanoscale materials growth in microelectronics, are defined for polymer films and fabrics.  Of particular interest is development of a new technique, called sequential vapor infiltration (SVI), by which organometallic ALD precursors are infiltrated into the bulk polymer materials and react with the available functional sites to form a network of organic / inorganic hybrid materials. The unique electro-optical properties of these hybrid materials will be explored, which opens a door to new patterned processing methods for textile electronic interconnects and sensors.       
Bio:
Dr. Jesse Jur is an Assistant Professor of Textile Engineering, Chemistry & Science at NC State University's College of Textiles, the global leader in textile education and research. After his undergraduate studies at the University of South Carolina and industrial experience in Silicon Valley, Dr. Jur earned his Ph.D. in Materials Science and Engineering at NC State in 2007. Dr. Jur's studies examine the interfaces of technologies from semiconductor device development to textile designs.  His current research focuses on integration of systems electronics into wearable platforms for energy harvesting and monitoring of a person's environmental and physiological state. He is the Technology Thrust Leader for 'Wearability and Data' for ASSIST (Advanced Self-Powered Systems of Integrated Sensors and Technologies), a National Science Foundation Nanosystems Engineering Research Center (NERC).  He is also the co-director of the Textile Engineering and Textile Technology Engineering Design Program in the College of Textiles, an intensive course that interfaces students and industry for innovative product development.
Faculty Website: https://textiles.ncsu.edu/blog/team/jesse-jur/
Research Website: https://sites.textiles.ncsu.edu/next/research
Type of Event (for grouping events):