Virus Based Nanotechnology and Nanotechnology Based on Viruses
Date:
11/04/2016 -

4:00pm

to

4:50pm
Speaker(s) / Presenter(s):
Virus Based Nanotechnology and Nanotechnology Based on Viruses
Abstract:  Nature long ago solved problems plaguing contemporary chemists with polydispersity and controlled synthesis at the nanoscale. The biological production and proliferation of viruses—each viral particle identical to the last—is unsurpassed in terms of both output and quality control relative to anything humans can accomplish today at such a scale. Our research program reengineers viruses for a palate of purposes, from drug delivery to materials fabrication to a test-bed for new bioconjugation reactions. I will be presenting several projects in our group that illustrate the power of chemical virology from an organic/materials chemist's perspective with applications in medicinal science as well as material science.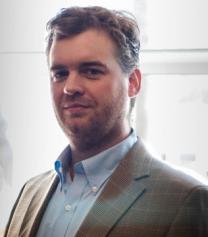 Bio: Dr Jeremiah Gassensmith earned his B. Sc. (Hons in Chemistry) degree under the tutelage of Professor Joseph Gajewski at Indiana University and his Ph.D. from Professor Bradley D Smith at the University of Notre Dame, where he studied the synthesis of sterically shielded near-infrared luminescent dyes. After his PhD, he traveled to Northwestern University to learn under Professor Sir J. Fraser Stoddart. At Northwestern, he investigated a diverse array of topics, including gas sequestration by cyclodextrin based metal-organic frameworks. He joined the faculty at the University of Texas at Dallas in August 2013. He's the author of 30 scientific articles, has a book chapter, and two US patents. Check out his website (www.gassensmithlab.com) or his twitter account (@gassensmith)!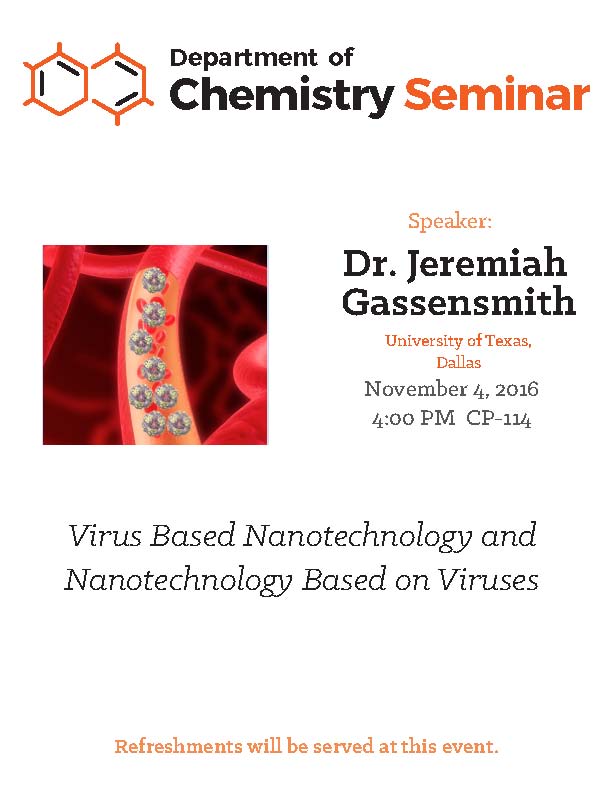 Type of Event (for grouping events):