Snow, Glorious Snow!
This morning we woke up to a white Jerusalem.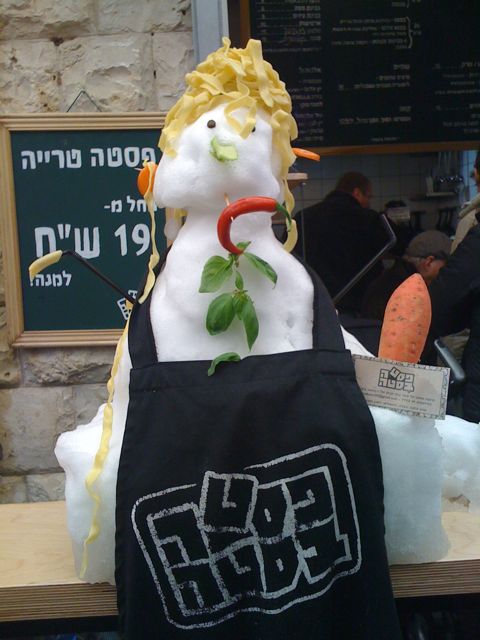 Suffering with the cold has been rewarded with the ephemeral beauty of a (temporarily) snow-blanketed city.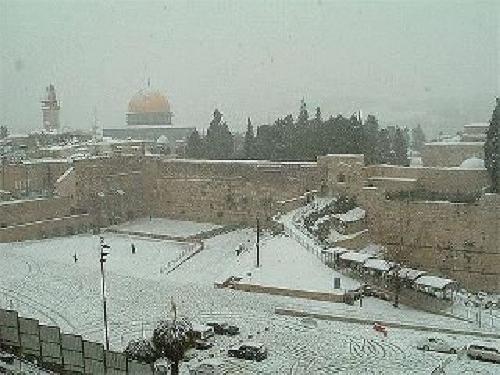 (Photo Credit Israel_Shield via Twitter)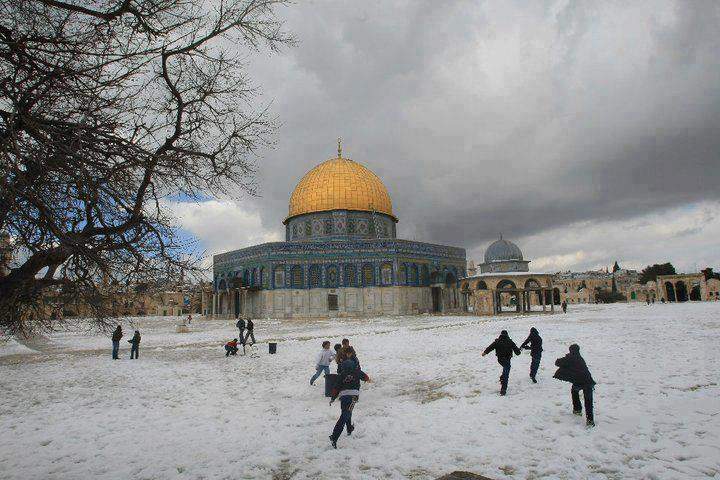 (Photo Credit: @Majdool via Twitter)
Haaertz reported it as "heavy" snow measuring in at a whole 3 cm. My up state-NY colleagues would laugh at this description. How does 3 cm count as heavy when compared to the regular dumpings of 3ft+ they often get, but the snow put a chill on my snarky cyncism. For in its its rarity, it ushers in a different kind of delight here. It's nice to see images of play, and people throwing snowballs. In fact, many people drive the hour from Tel Aviv to hear just to take their children to see the snow!
As I made my way to Machne Yehuda for the Yom Shishi (Friday) shopping spree before the Sabbath, I walked through the snowflakes, as giddy Jerusalemites stopped to extend their tongues and get a taste of winter's white prize.  I too couldn't help but be taken over by enthusiasm, afterall, it was the first time I've ever seen snow here in Jerusalem.  By the time we were up and about, much of the snow had already melted away. This was the only accumulation I could capture on film.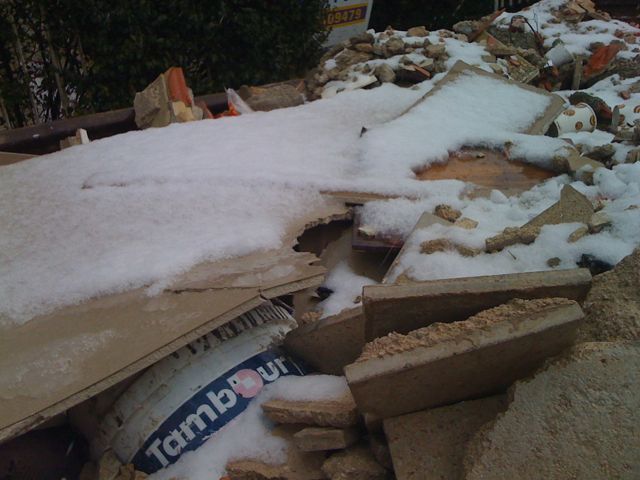 Or on this windshield...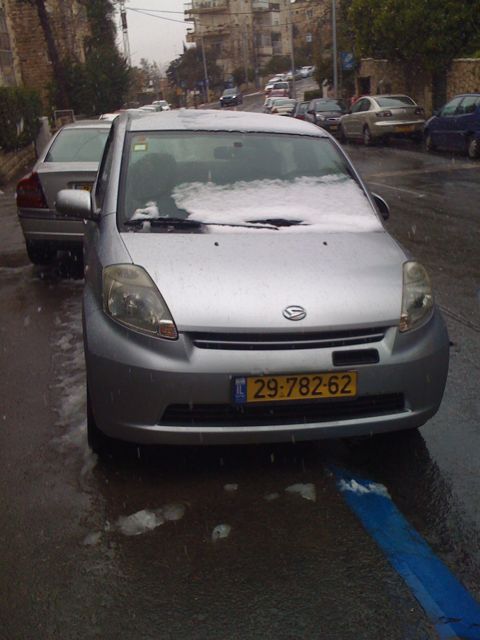 But that didn't stop everyone from trying to build and keep the snowpeople in view. Jim and I headed to Pasta Basta, a wonderful little nook in the shuk, where the wonderous piles of homemade noodles are sure to fill your belly and warm your cold your body.  The tomato soup is to die for,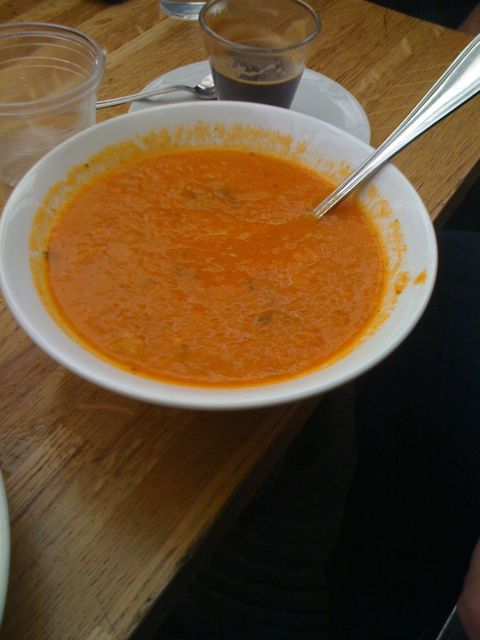 as is the Lambrouska (bubbly rose-colored wine)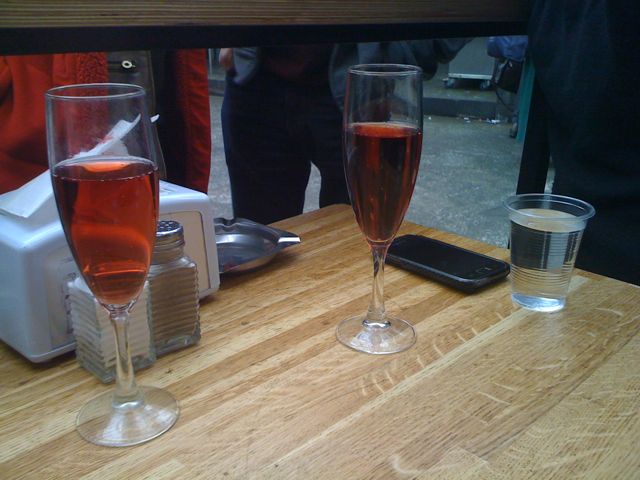 and the hot wine.  I've already made the mistake of trying to shuk-shop while hungry,  so now I always try to grab a good nosh before bustling about.
We had some fantastic pesto on whole-wheat pasta,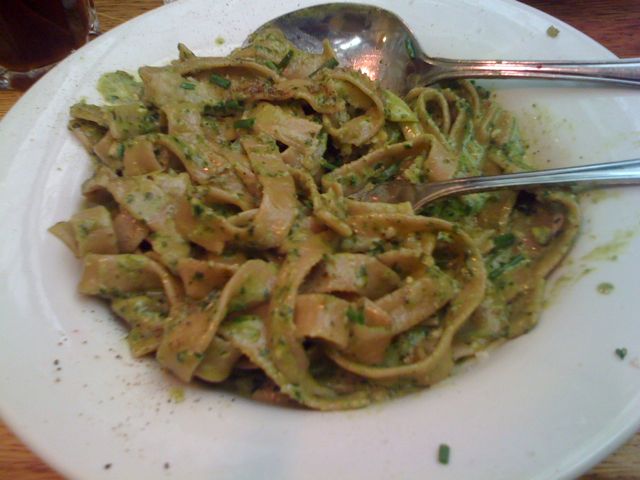 and in previous visits we had this wonderful beet sauce on fettuccini.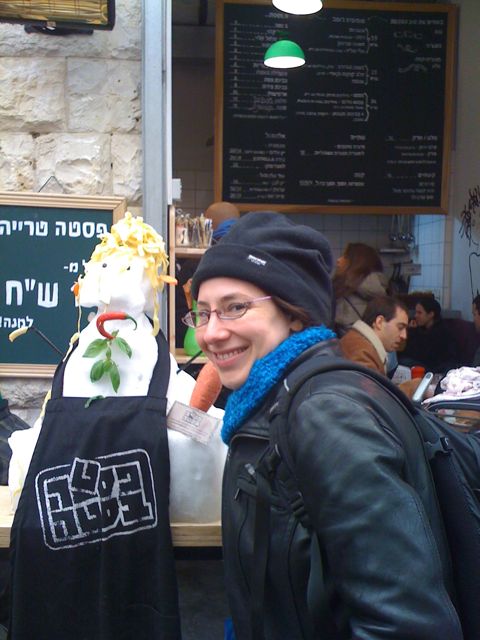 By the time we made it back to our hood, the little snowpeople were already melting away, and along with them, memory's of the morning's "big snow."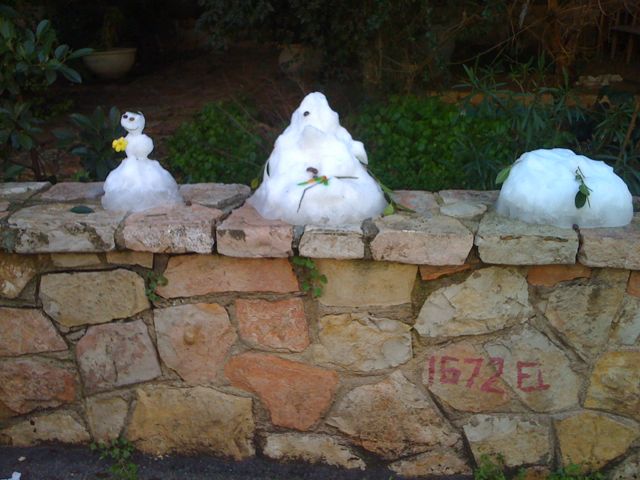 Rumor has it there will be more of the white stuff tonight.  You can bet we'll be huddled around the spaceheater!