Carbon and related fibers… applied materials development next-door
Date:
12/08/2017 -

4:00pm

to

4:50pm
Speaker(s) / Presenter(s):
Abstract:
Carbon fiber is increasingly visible in materials science and applications.  For example, Boeing's 787 airframe is constructed from approximately 50 % (w/w) carbon fiber composites, and BMW's 700 series, i3 and i8 cars make extensive use of carbon fiber.  This practice of lightweighting vehicles is driven by fuel economy, emissions reductions and performance enhancement.  Carbon fiber enables engineering composite materials with the highest tensile performance per mass-density known.  Other applications include advanced space satellite structures tuned for near-zero CTE, giant wind blade spar caps, transmission belts, and a plethora of sporting goods, to name a few.  Further, carbon fiber composites are more resistant to fatigue and corrosion failure than aluminum.  The chemistry and processing to make carbon fibers is a beautiful, rich science but a murky processing bog.  How can a fiber largely comprised of graphitic carbon, pencil fodder or solid lubricant, be so strong? 
The Materials Technologies Group at UK's Center for Applied Energy Research (CAER), has been active in carbon fiber research and development for the last two decades.  Our work is applied in that we often seek to answer questions orbiting process scale-up, stability, and how processing "knobs" affect product properties.  In this talk, we will delve into (the remarkably few) basic starting chemistries for continuous carbon fiber, and discuss some of the processing, structure and properties observed.  The initial spinning process of the precursor fiber is central and will be highlighted in detail.  Our group operates one of only a few, solution spinlines (apparatus for spinning precursor fiber) outside industry, and the largest in North America, which allows us to explore precursor structure-property relationships.  The overall complexity of making continuous carbon fiber will be contrasted with the relative simplicity of making carbon nanotubes, which can be thought of as miniature discontinuous fibers of carbon.  
Our fiber spinning skillset has opened several new arenas of materials development.  One of which, a natural extension of PAN precursor spinning, combined with carbon nanotubes, has led to interesting findings for hollow fiber polymer membranes for gas separations.  Indeed, new fibers generally offer intriguing glimpses at the emerging area of wearables.  
Short Bio:
Dr. Weisenberger is a central KY local, graduating with a B.S. in Chemistry from Georgetown College in 1999, and later finishing a PhD in Materials Science and Engineering at the University of Kentucky in 2007.  His current research focal areas include fiber processing, carbon nanotube composite materials, thermal management materials, waste heat energy harvesting, and membrane separations.  He serves as the group leader of the Materials Technologies Research Group at UKY's Center for Applied Energy Research (CAER), and as PI on a multitude of externally funded research projects.  His publications have over 1000 peer citations in the refereed literature, and include a diverse group of co-authors.  Dr. Weisenberger has two issued US Patents, and serves on the Executive Committee of the American Carbon Society. He is also adjunct assistant professor in UKY's Department of Chemical and Materials Engineering. He and his wife have two daughters and live in Lawrenceburg, KY.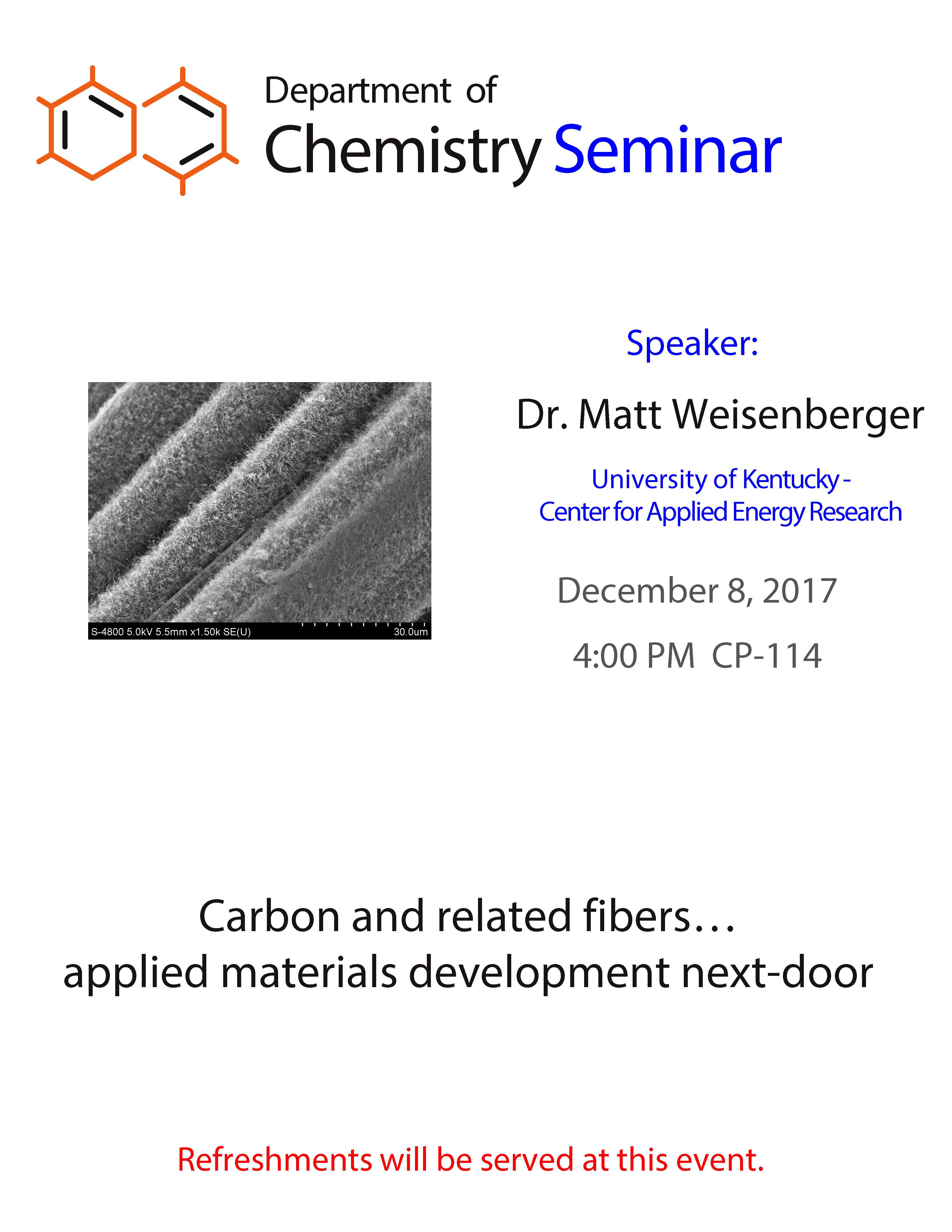 Type of Event (for grouping events):